19 Things You Need to Know About living in Portland, OR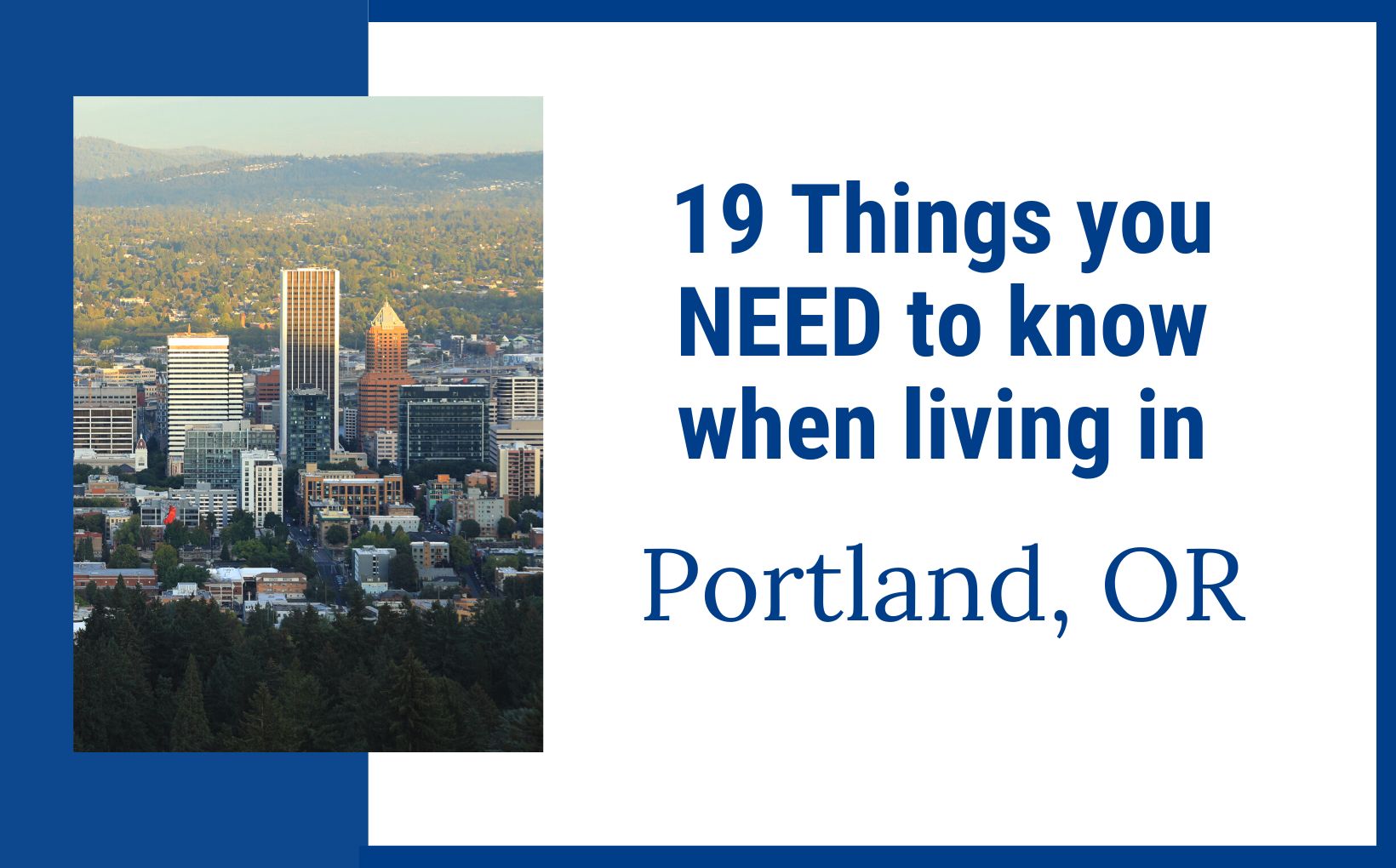 If you're thinking about moving to Portland, Oregon, there are a few important things to know about this awesome city before you arrive. Is it just like Portlandia? Does it rain every day? What do locals know about Portland that you don't?
Here are nineteen things you should know when living in Portland:
19 Things to Know About living in Portland, Oregon
19 Things to Know About living in Portland, Oregon
1. Zero sales tax
When moving to Portland, get ready to save money on sales tax—there's none in the entire state! It may not seem like much, but once you think about all of the smaller things you buy here and there, the savings will quickly add up. Not only does this save you some extra cash, but it also lets you know exactly what you'll pay in the store. The sticker price is what you pay and not a penny more.
2. You don't need to pump your own gas
Ever get tired of pumping your own gas? It's not a thing you tend to think about until you don't have to do it anymore. In Oregon, gas station attendants pump your gas for you. It's weird at first, but after you've lived in Portland for a while, it becomes the norm. It becomes so normal, in fact, that you may find yourself parked at a gas station in another state waiting and waiting before remembering that nobody's coming to pump your gas for you.
3. Pro sports
In Portland, we're all about supporting our super talented, best of the best local teams. Our basketball team, the Portland Trailblazers, always have a good turnout, and the Portland Timbers soccer team has their very own army of fans (the Timbers Army) as well as their own lumberjack (you have to see it). The Trailblazers play at Moda Centre, which is our modern indoor court right in the heart of Portland. The Timbers play at the beautiful Providence Park stadium which is tucked into the Southwest hills. There have also been talks in the works about bringing a Major League Baseball team to Portland as well.
4. Nicer than Midwestern Nice
The Midwest has a reputation for being one of the nicest and most polite regions in the country, but Portland could have them beat. Portland has consistently ranked as one of the best places to live in the nation as well as one of the friendliest. If you move here, you'll usually find that most native Portland residents care a lot about wellbeing, work/life balance, their city, and being nice to each other.
5. Nature, so much nature
When you live in Portland, you have access to a huge variety of landscapes in and around the city. You can check out some of the stunning local waterfalls, take a hike in the nation's largest urban park, or spend a couple of hours at the Rhododendron Gardens. Drive west and you'll get to the beaches; if you go east, you'll find yourself in the mountains. Portland is a city where you are literally surrounded by nature.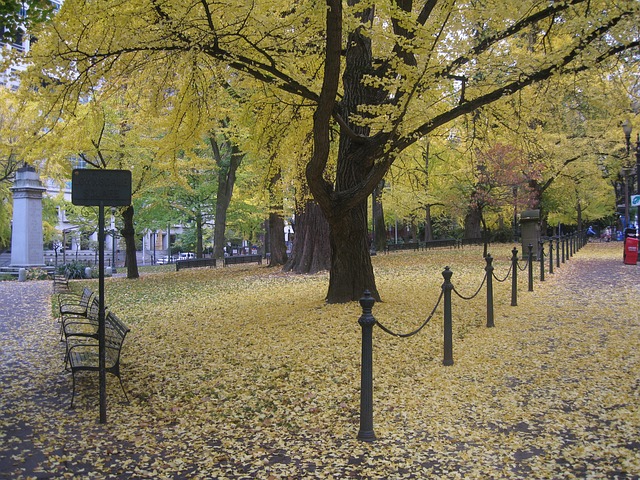 6. Top pet-friendly city in the nation
Portland is one of the most pet-friendly cities in the entire country. Ever been to a restaurant that offers a cooked mini human meal served on their finest china, but for a dog? We're not talking Starbucks Puppuccinos here. In Portland, we take this sh*t seriously. Grab brunch at Tin Shed in Northeast Portland, and they'll cook for your dog and sometimes even give them a free bandana. That's not the only quirky pet-friendly place here–there are so many.
7. It almost never snows (and it's gorgeous when it does)
If you're moving from an area of the country that consistently gets snow in the winter, then get ready to experience almost no-snow. Does Portland get snow? It surely does, but it doesn't snow often enough to be greeting a faun named Mr Tumnus, and eating Turkish Delight, while the White Witch tries to break the prophecy that will make you and your siblings rulers of Narnia. Is Portland that weird? Absolutely–but not always.
When it does snow in Portland, the city basically shuts down. And, there are few things more amazing in life than walking around old architecture buildings of Portland–highlighted by the contrast of fresh snow–with a backdrop of huge, lightly-dusted trees.
8. Coffee Culture
Portland has independent coffee shops everywhere. The love that Portland has for craft coffee knows no bounds, this is seen by the care that our baristas take when making your morning Cup of Joe. It's more like an art form here.
Whether modern or historical, many coffee shops in Portland have this outstanding decor, which makes them great places to set up shop and work, play board games, or just talk. Instead of drinking coffee from large national chains, you get to enjoy the (much, much better) local Portland coffee.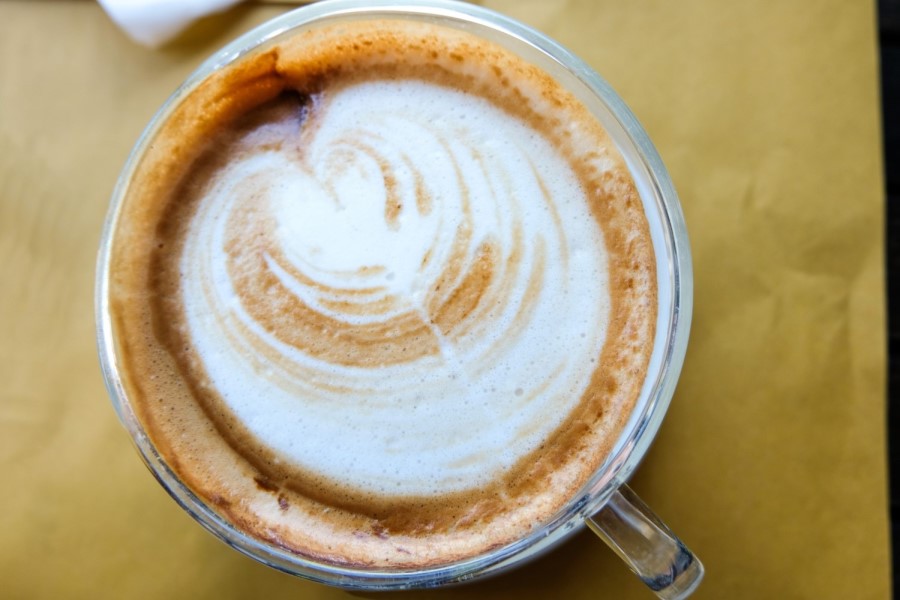 9. Wineries Nearby
When we say that Portland has everything you could ever dream of, we mean it. Portland and our neighboring Washington State have some incredible wines, made right here in the beautiful Pacific Northwest. Our local wineries are very close to town as well, so you can easily take a Lyft or Uber to them. They make for a pretty great way to spend an afternoon.
Most of these places are also kid-friendly, so a trip to the winery does not necessarily mean that the kids have to stay at home. Touring local wineries can be a fun activity for the whole family.
10. Portland is a Brewery Mecca
Portland has a super diverse brewery scene that comes in at 8th place for breweries per capita in the nation. As you might imagine, the level of competition between breweries here is extraordinarily high, which means you can always find not just good beer but great beer here.
If you're looking for a brewery that's near all the action, try Ecliptic Brewing on N. Mississippi Ave. For a quintessentially PDX experience coupled with some tasty beer, try McMenamins Kennedy School. The Kennedy School brewpub is a converted old school with multiple bar areas, a cinema, and a soaking pool (which can be used if you're staying at their hotel). They also serve pub food and make a killer Spanish coffee. While it's not your typical brewery and is totally kitschy, it's not your typical anything and very much worth a visit.
11. So much food
When it comes to what to know about living in Portland, you definitely want to know that Portland is a foodie scene. Portland has a fantastic food scene to complement the beer and wine that we're so fortunate to have in our backyard. If you want to explore Portland, you can just use the incredible restaurants here to delve into new areas. Portland has consistently been ranked as one of the top foodie cities in the entire nation, so you can always find a great spot for lunch or dinner whenever needed.
12. Trout and salmon fishing
Do you like fishing? Portland has a ton of different fishing spots. You can find great trout and steelhead salmon just about anywhere here. In fact, the Willamette River is one of the only U.S. rivers to offer trout and steelhead salmon fishing in a large metropolitan area.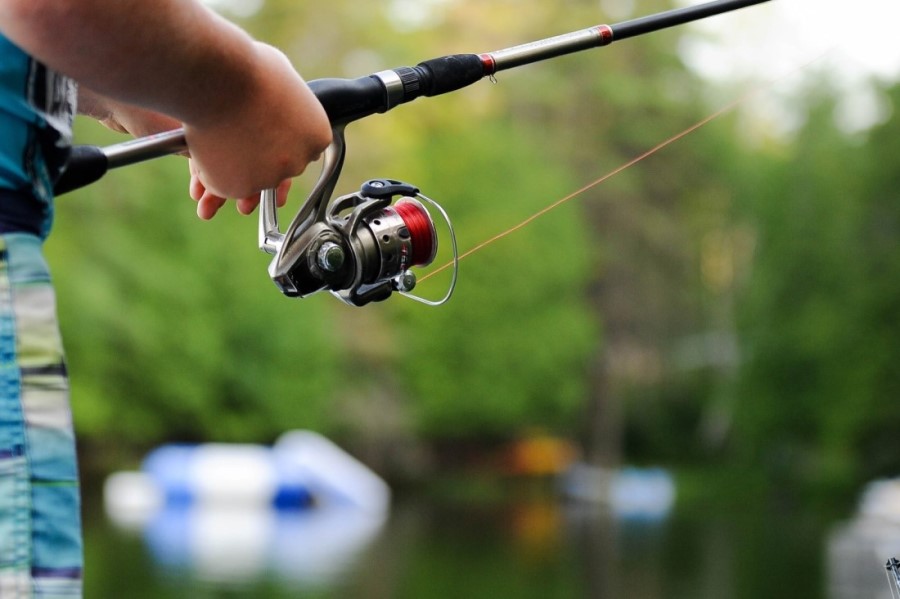 13. How to Pronounce 'Willamette'
The Willamette River is the main river that runs through Portland, while the Columbia River splits Portland, Oregon and Vancouver, Washington. It's one of a handful of entities here that Portlanders are very specific about getting right on the pronunciation front. Think Will-AM-it vs. Will-uh-mit or Will-ay-MET.
14. Portland is a Biker's Paradise
With more than 350 miles of bike lanes throughout Portland, you can reach nearly anywhere you need to go in the city on a bike, without having to worry too much about driving through traffic. The biking culture here is so robust that some bike lanes are even divided with a passing lane for bikers who are in a rush, and there is a bridge that was specifically designed without car access, just purely for bikes.
15. The Four Quadrants of the City
If you move to Portland, you'll find that the city is divided into four different quadrants, based on Burnside Road and the Willamette River (Will-am-it). They run roughly perpendicular to each other, dividing Portland into North-West, North-East, South-West, and South-East quadrants. There is, however, another area that looks and acts like a quadrant but also lives in a world of its own. St. John's is our family member to the north. It's an awesome area that's not northeast or northwest, but simply north and the '5th quadrant' of PDX.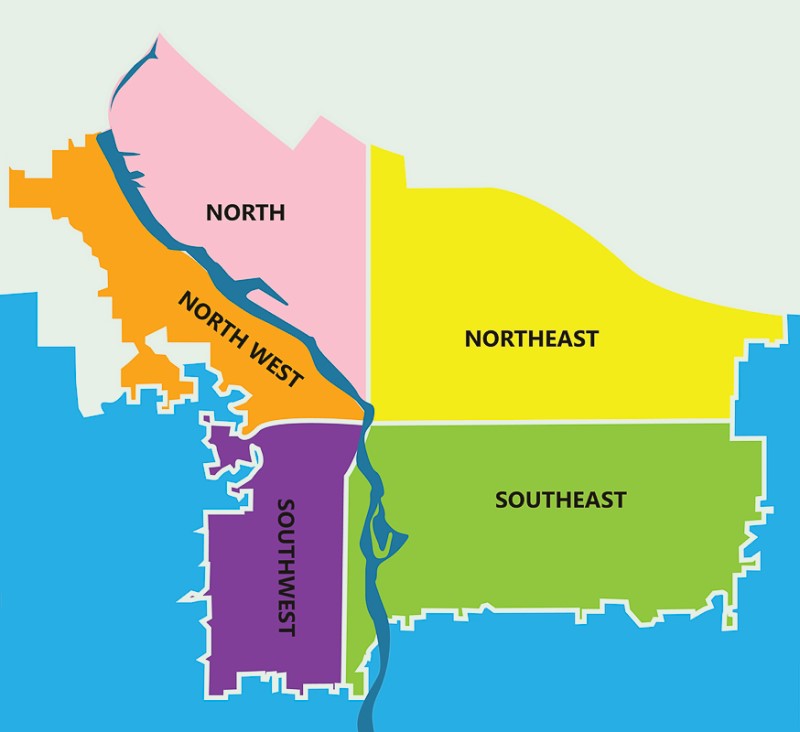 16. Portland is very walkable
In addition to being a super bikeable city, Portland also is an exceptionally walkable city. In fact, you can get to most of the places you're trying to reach on foot, and for the places a little further out of the way, you can bike, scoot, drive, catch a Lyft/Uber or take public transport. The flip side to Portland's walkability is that you have to be very careful while driving to yield to pedestrians. There are plenty of them out there, and they expect cars to yield.
17. Recycling
Portland is also one of the greenest cities in the country. Here, you'll find that peoples' recycling bins are bigger than their trash cans—we like to recycle that much. If you're a particularly environmentally conscious person and try to do your part to take care of the environment, Portland is definitely the city for you—you can recycle here to your heart's content and it's actually designed to put recycling first.
18. Get Ready for a Change of Pace
If you're moving from the East Coast or anywhere that's not Portland, get ready for a change of pace. While many cities on the East Coast are fast-moving, with people rushing for just about everything, Portland is the exact opposite. It can take a bit getting used to, but once you do it pays dividends on your wellbeing.
19. Outdoor Gear
The Pacific Northwest does have a reputation for getting a lot of rain. Here you have some very well made outdoor gear available everywhere. Portland is even home to Columbia Sportwear's headquarters, Nike World HQ and Addidas HQ, to name a few. Although, native Portlanders don't always wear rain gear–you'll see a lot of folks wearing woolen items and dealing with the rain without worrying about specialized rain gear.
Thinking about moving to Portland, Oregon?
If you're thinking about moving or relocating here to Portland, Oregon, make sure you give us a call, shoot us a text, or send us an email or even send the pigeon carrier–however you want to get ahold of us. We have your back when moving to the Portland Metro.
Need help moving to Portland?
If you're thinking about moving to Portland, OR, we can help you find your perfect home in the right neighborhood for you. If you have questions about moving to Portland, feel free to call, text, or email Jackson Wilkey or Jesse Dau.
P.S. Join your local peers!
Join our active Facebook group to get to know the city & the real estate market better
Or message us to day with your questions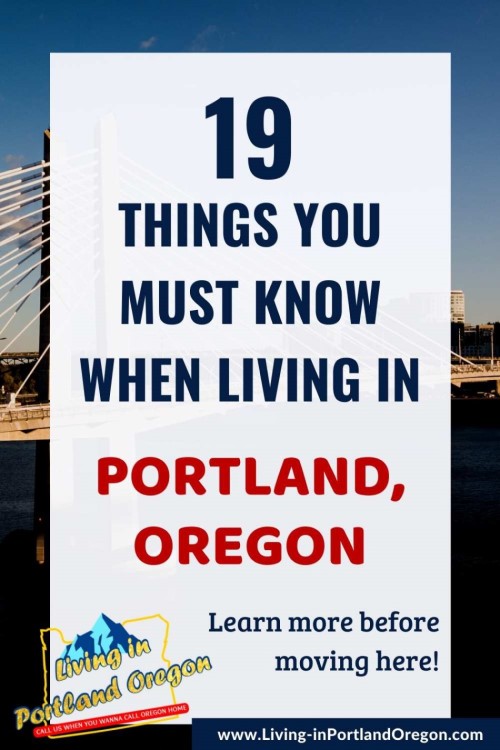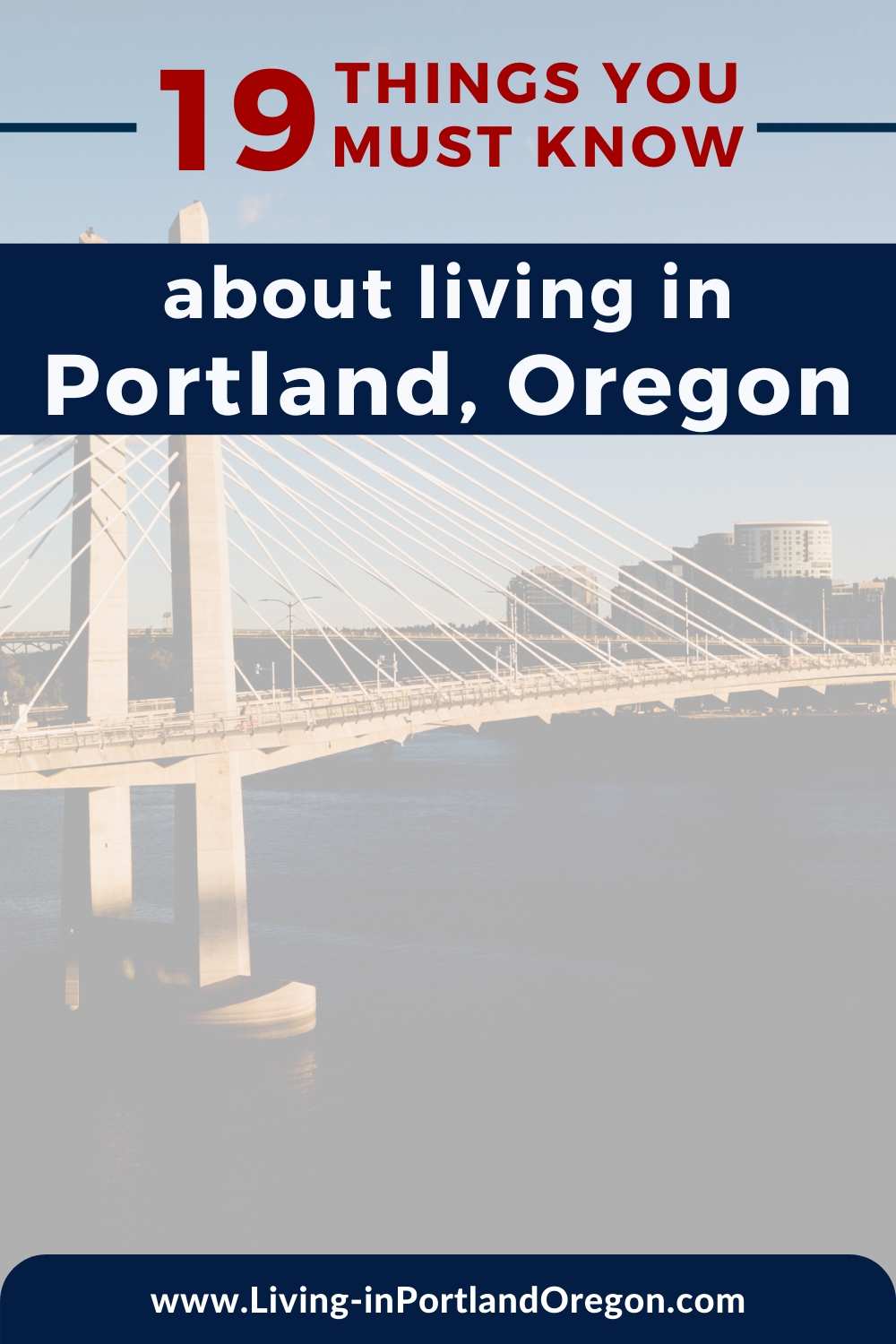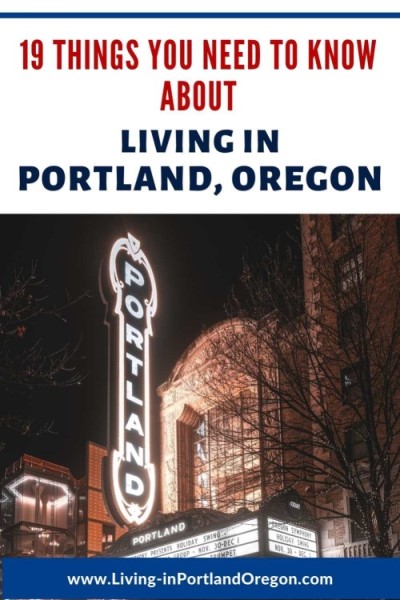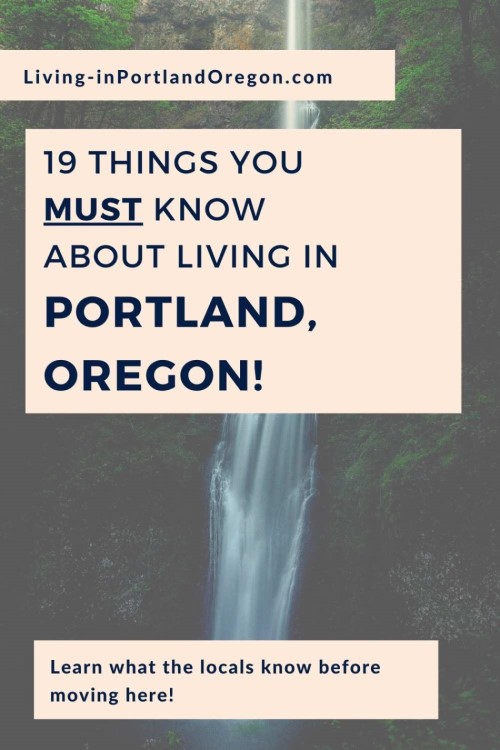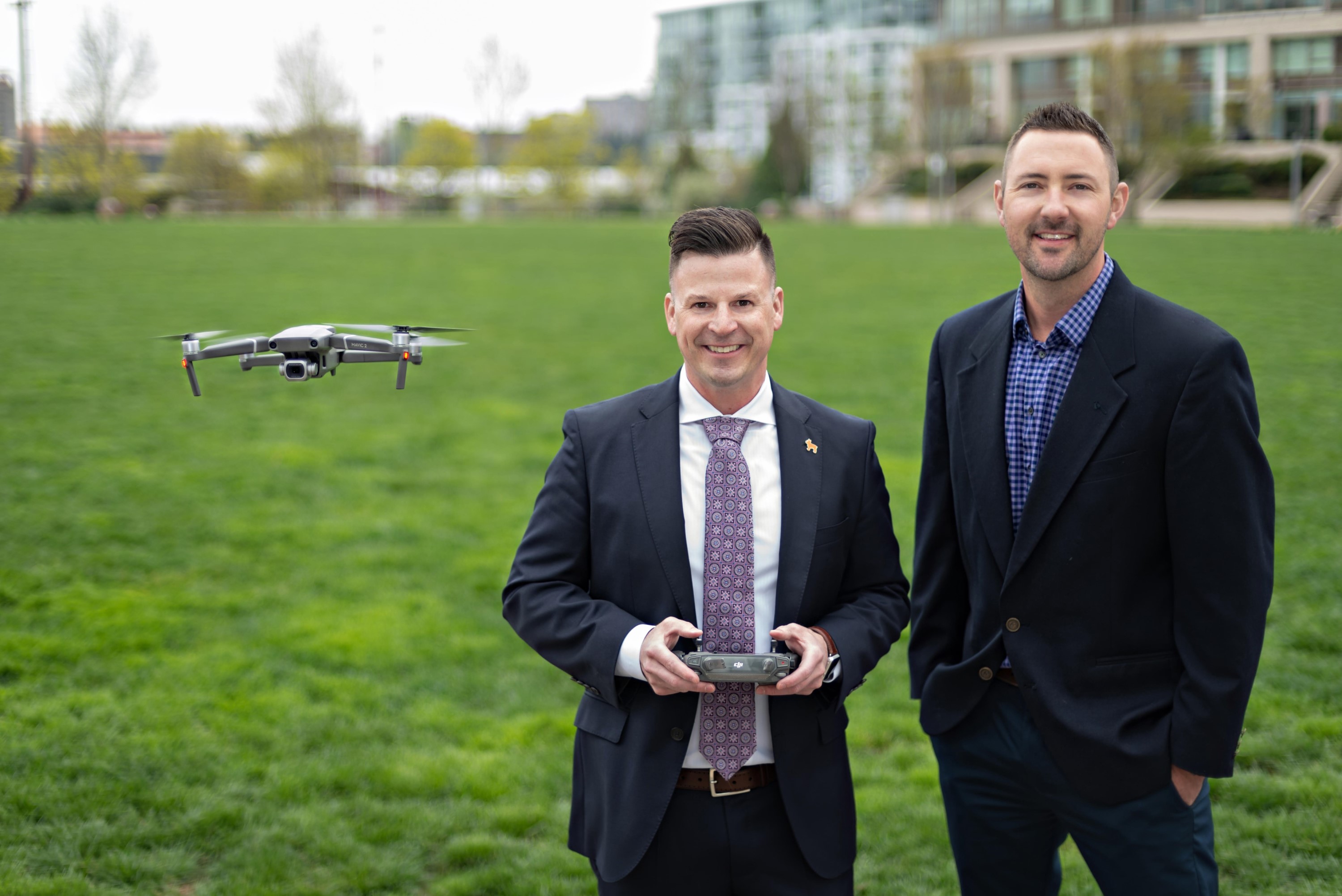 About Real Agent Now Group
Jesse & Jackson are high-touch broker's known for their extensive market knowledge and unmatched devotion to clients.
Their success is based almost exclusively on positive referrals. They earn the respect of their clients by working tirelessly on their behalf and by always offering them candid advice.
Get to know them better by checking out their Portland and real estate YOUTUBE CHANNEL.