Is Portland Oregon safe? Safest Neighborhoods in PDX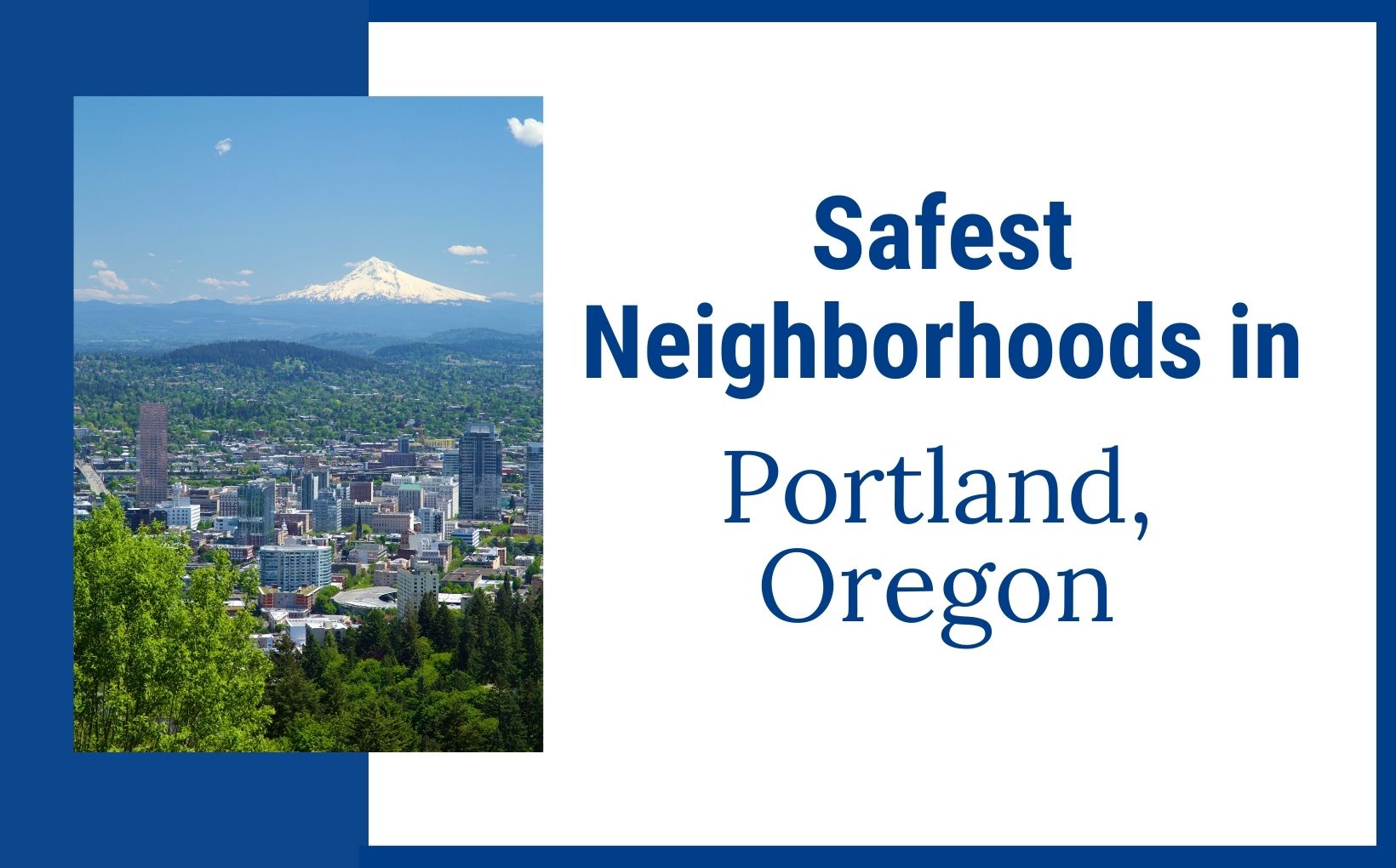 How safe is Portland, Oregon?
When you're planning to move to any new city, it's important to know how safe that location really is. With that in mind, let's talk about how safe it is in Portland.
Is Portland a great place to visit, or is it the kinda place that sounds so good on paper but doesn't deliver in reality? We went in search of some decent statistics and good data on this, but we found that it was kind of all over the map. We've seen Forbes ranking Portland as the #3 safest cities to live in the US. Then we read other articles that had Portland ranked at the 60th safest city to live in. It was really all over the place and completely dependent on what they were measuring. So, for this article, we decided to peel it all back and get to the most important stats.
We looked for areas with great housing, incredible schools, and very low crime rates.
Is Portland, Oregon safe to live in?
It's no secret that moving to a new city can be challenging, exciting, and straight-up terrifying. Uprooting yourself and your family can bring out vulnerabilities that you had hidden as deep as they could go. The new place is unfamiliar but not unchartered territory, which can be somewhat scary.
Yes, Portland, Oregon, is safe. Are there areas that are bad? Heck yeah, there are areas that are 'bad'. Portland is a city, so the tale of the City of Roses isn't always just about the rose part. The Portland Oregon violent crime rate in 2019 is around 3000 per year. Whereas property crimes have been increasing since 2020, at around 30,000 per year. But keep in mind a property crime can be something quite small or even insignificant. For a city of this size, the crime rate is pretty low.
If you look at Downtown Portland, the Westside of Portland, and the inner East sides of Portland you'll find some incredible areas that together cover the majority of the Portland Metro.
With all that in mind, we'll cover the nine safest neighborhoods in Portland, Oregon.
What are the safest neighborhoods in Portland, Oregon, to live in?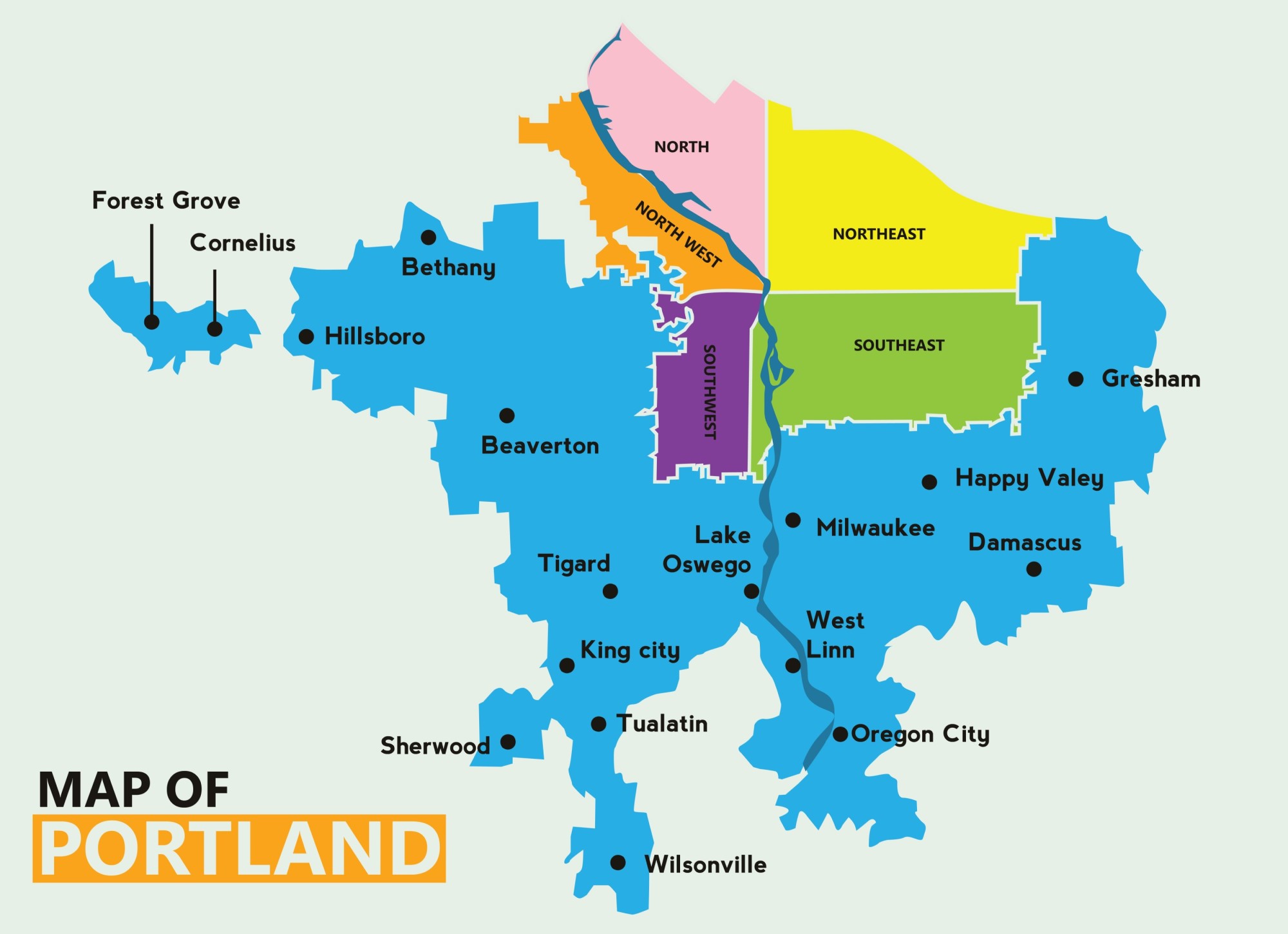 9. Sabin
Sabin is an up-and-coming spot on the inner Southeast side of Portland. This neighborhood has some of the best potentials in the Portland Metro for getting the most equity from your property.
It's surrounded by the best districts in Southeast Portland like Alberta Arts, Alameda, Irvington, Hollywood, and you're really close to NoPo (North Portland). You've got the iconic Mississippi Ave nearby meaning you're next to downtown. If you live in Sabin then you're right in the middle of everything.
The next door neighbor of Sabin, Irvington, is comprised mostly of multi-million dollar homes, but here you can find homes in the $600k range.
If you really want that awesome Portland lifestyle, the Sabin neighborhood is definitely one area that gives you all that. Reach out to us, and we'll find you a great home in Sabin.
8. Homestead
Coming in at number eight is Homestead. It's an area we'll be visiting quite a few times in this list of the nine safest places to live in Portland, Oregon. Homestead is in this cool and rarely talked about little pocket of Portland, right next to the Oregon Health & Science University (OHSU) campus. It's also close to Lincoln High School which is one of the top high schools in the Portland Metro. The school district is truly one of the very best in and around the city as well.
Homestead is a mere minutes from downtown Portland and, one of the best things about this area is that it's surrounded by many of Portland's finest parks. You have Marquam Park, Terwilliger Park, and Duniway Park. If you really like nature and greenery, this is a great area to look into. The streets in Homestead aren't cookie-cutter in any way, but instead winding hilly roads lined with towering old-growth trees. To go along with the easy access to nature, this unique area also has loads of nightlife close by.
7. Grant Park
Number seven on the list is Grant Park. It's in the same larger area as the Sabin neighborhood, but it's going to be a little bit more expensive. Grant Park is so highly sought after that it can be harder to find properties here. It's an incredibly beautiful area. Plus you're right next to Alberta Arts district and Irvington. It's an incredible place to live in Northeast Portland.
Grant Park is close to I-84 and the Hollywood district, which is a very central spot in Portland, so you can get anywhere you need to, and you're just minutes from downtown. Living in Grant Park puts you right in the middle of huge old-growth trees and some vibrant communities.
The area is also home to Ulysses S Grant High School, which is another top high school in Portland. The school is currently (in 2020) being completely remodeled and the plans show that it's going to be just incredible when completed.
6. Marshall Park
The Marshall Park neighborhood is South of I-5, and it's a super, super cool area. One of the best things about Marshall Park is that it's close to downtown, but it's also very green. So you get the best of both worlds.
This spot is to the South of Tryon Creek, which goes all the way to Lake Oswego and is one of the most killer hiking parks in the Portland Metro area. There's a huge collection of trails here, all leading to well-manicured, hilly grounds as far as the eye can see. If you're into trail biking, you'll have some rideable paths that present a decent challenge.
5. Nob Hill
Heading into the number five spot, we have a fantastic neighborhood in the Northwest district called Nob Hill. It's one of our favorite top neighborhoods in all of Portland.
The Northwest District is generally an awesome area that gives you access to just about anything you might want. The shopping in Nob Hill consists of independent boutique stores, amazing restaurants & bars, and it's right next to Portland's enormous urban forest, Forest Park. So, yeah, it really has it all.
This part of the Northwest District has massive, old turn-of-the-century homes alongside newer condos, and townhomes. With entertainment, walkability, and close proximity to all that is downtown Portland, Nob Hill, and the entire Northwest area tends to attract a lot of young professionals.
Nob Hill is just down the street from another popular neighborhood named 'Slab Town.' This slice of Portland is absolutely blowing up at the moment and has been for some time. It's home to one of the best school districts in the entire Portland Metro, and one outlet of Portland's most coveted ice cream store, Salt & Straw.
As a quick aside, Salt & Straw recently whipped up a batch of 'Wild Seafoam Glitter' that was designed in-store by none other than iconic fave, Mr. Jeff Goldblum. And that's just the kinda swagger that this stone-cold ice cream crew has (it's Jeff Goldblum, people. The man is a hero among mortals).
All in all, we can't say enough good stuff about the Nob Hill neighborhood in Northwest Portland. It's truly Portland living.
4. South West Hills
Number four on the list of safest neighborhoods in Portland is the South West Hills. This neighborhood is right in between two other top neighborhoods that we're going to talk about next. So, on that note, you're going to find a lot of commonalities between this and the last hood, Knob Hill. You'll get giant old-growth trees, huge parks, tons of walkability, nature, hiking trails, and top schools.
Southwest Hills is an area in which you can find a more affordable house than in some of the surrounding streets, but you still get that feeling of being integrated into the beautiful Northwest Portland.
You're close to downtown; you're really close to Washington Park which has the Oregon Zoo, the Rose Gardens, and the outstanding Japanese Gardens. It's just an unbelievable area.
3. Healey Heights
Alright, so that gets us into number three, which is Healy Heights. Healey Heights has all that plus winding roads with breathtaking views of downtown Portland at every turn. It's rated as one of the top neighborhoods to raise a family in because it's super safe, and has some really great schools.
It's right above Northwest Portland, and also has Providence Park in its sights, which is where the Portland Timbers play.
2. Arlington Heights
At number two, we have Arlington Heights. It's right in that coveted Northwest pocket again. As you'll start to notice, that pocket is an area that has some of the very best neighborhoods in Portland.
In Arlington Heights, you are literally in Washington Park, which again puts you right by the Japanese Gardens, the Rose Garden, Oregon Zoo, and close to Hoyt Arboretum. You're just above Northwest Portland, so it's walkable, has top schools, and is generally just a highly desirable area.
The homes in Arlington Heights are huge and you'll never find two the same. They're all entirely unique, gorgeous, and unbelievably manicured. Most of the real estate here is really old homes that have been completely gutted and modernized.
1. East Moreland
That gets us to our number one spot, the safest neighborhood in Portland, Oregon… and it's not even in that pocket of the Northwest region! Head over to Southeast Portland and you'll find East Moreland. It runs next to the Sellwood Moreland area, which is another highly desired area a little closer into the West.
The infamous campus of Reed College is located in East Moreland. Reed is a hub for extremely intelligent humans with the likes of James Beard and Steve jobs as past students.
A few other cool traits of East Moreland are the incredible houses, the closeness of top golf courses and, as mentioned above, it's right by Sellwood Moreland, which is very walkable and full of funky shops and restaurants.
Need help moving to Portland?
If you're thinking about moving to Portland, OR, we can help you find your perfect home in the right neighborhood for you. If you have questions about moving to Portland, feel free to call, text, or email Jackson Wilkey or Jesse Dau.
P.S. Join your local peers!
Join our active Facebook group to get to know the city & the real estate market better
Or message us to day with your questions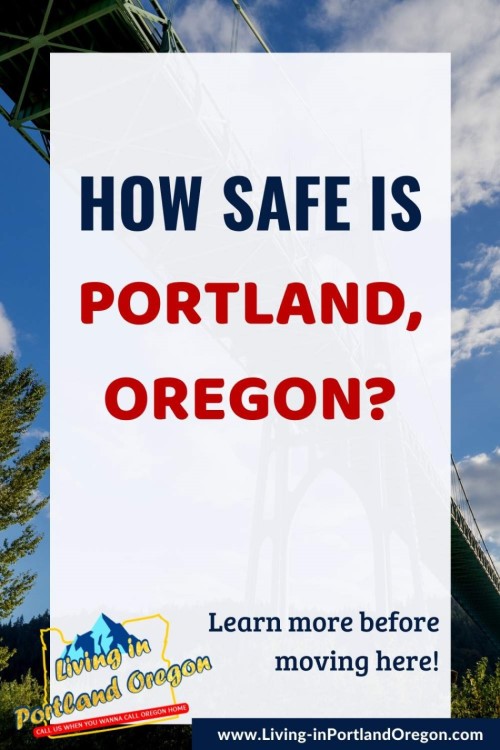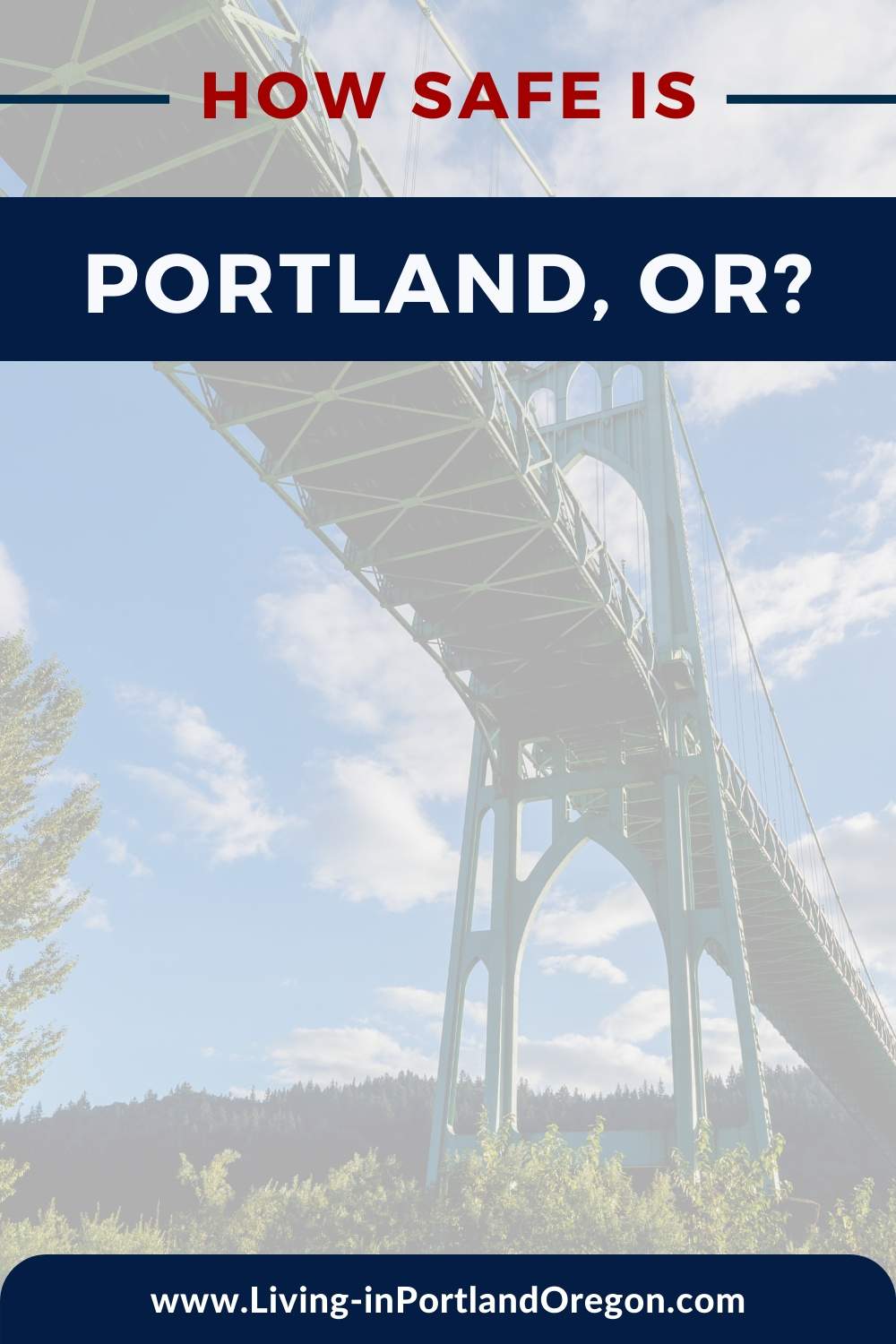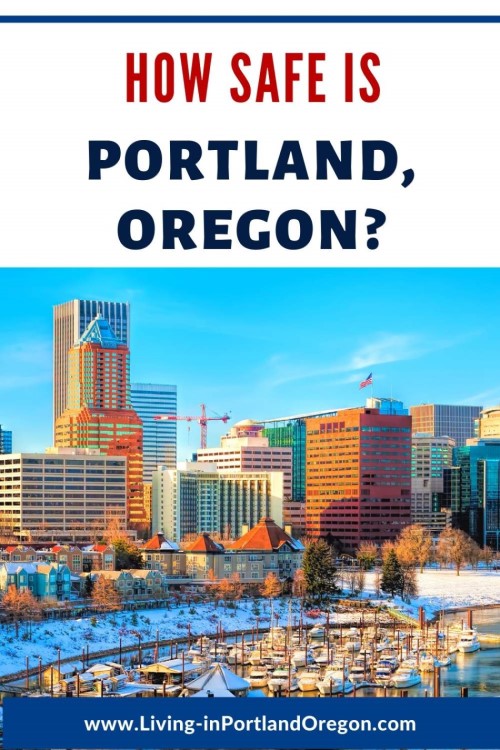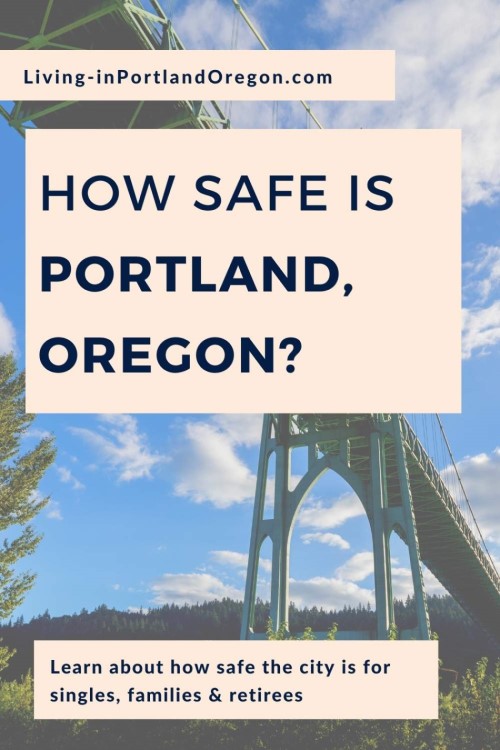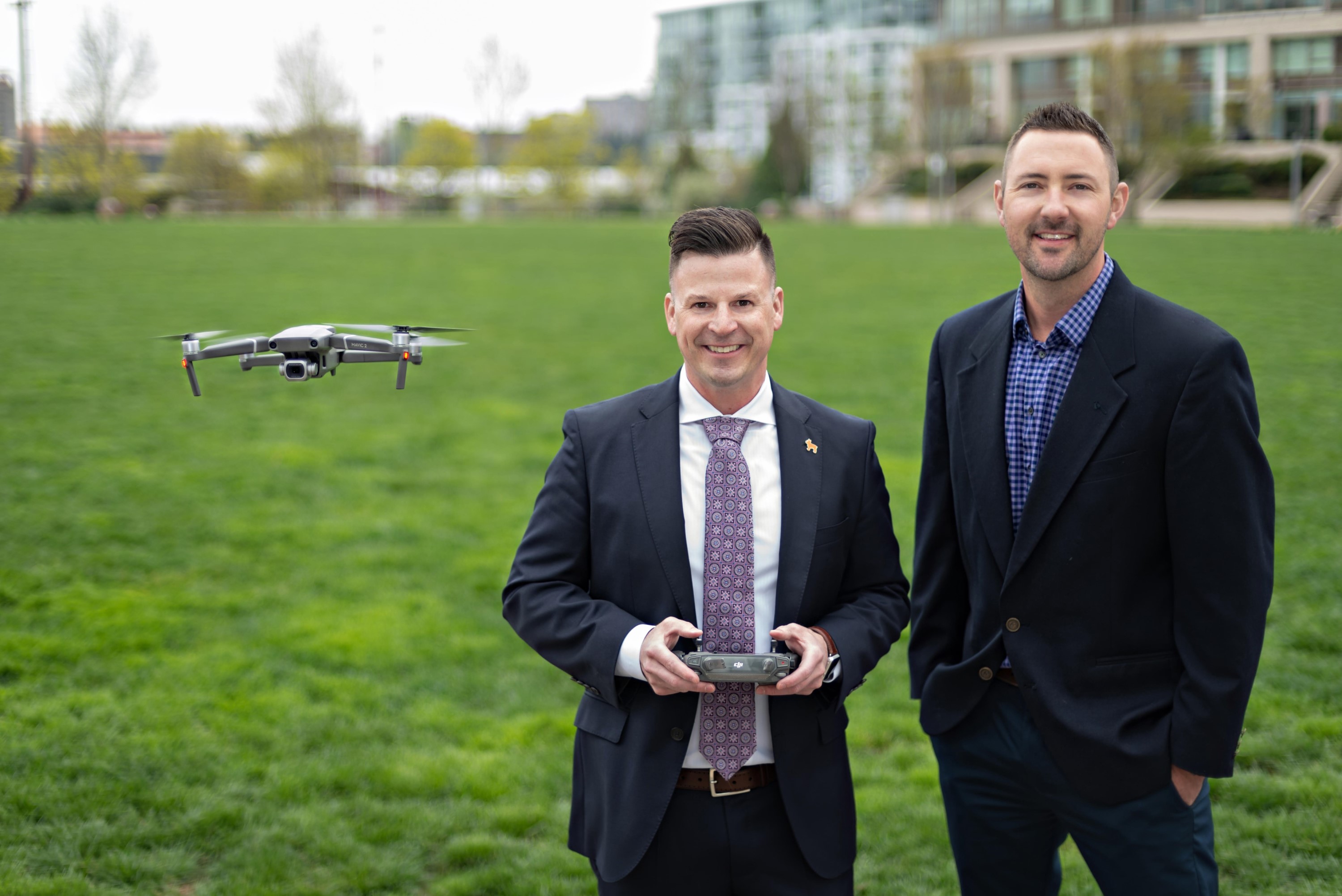 About Real Agent Now Group
Jesse & Jackson are high-touch broker's known for their extensive market knowledge and unmatched devotion to clients.
Their success is based almost exclusively on positive referrals. They earn the respect of their clients by working tirelessly on their behalf and by always offering them candid advice.
Get to know them better by checking out their Portland and real estate YOUTUBE CHANNEL.