What is a Cloud Brokerage?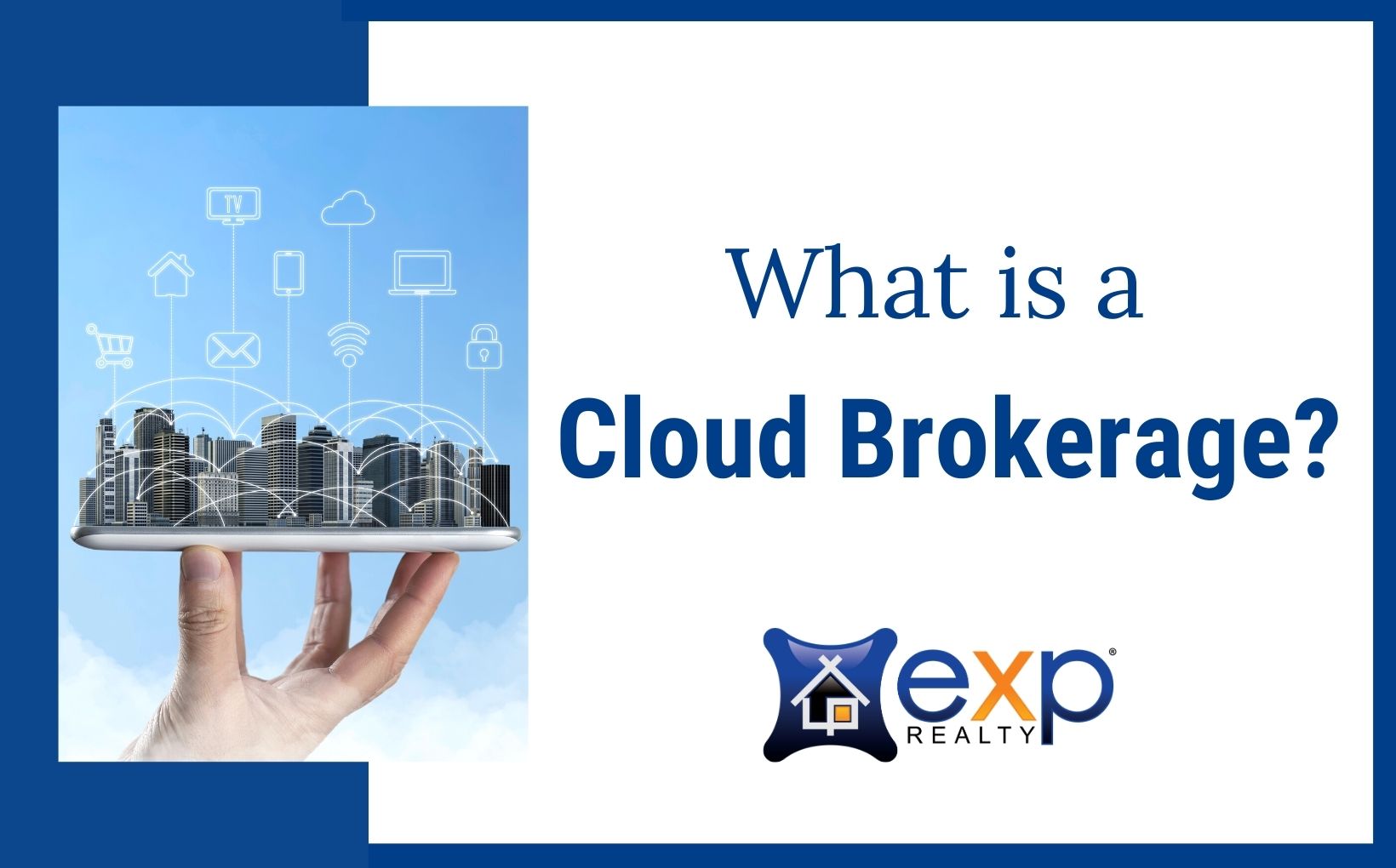 If you find yourself wondering "What is a Cloud Brokerage?" you aren't alone. In our ever changing environment, industries are changing daily, and it's nearly impossible to keep up. I'm Jesse Dau, a long time real estate agent & recent addition to the eXp Cloud-Based Brokerage Realty team, and I'm here to take the mystery out of cloud realty, and show you what it can do for you. Let's jump in.
Interested in learning more about eXp Realty & how it could be the best game changer in your real estate business?? Check out our my YouTube Channel where I interview top eXp performers each week OR contact me directly. I'm happy to chat with you about your questions.
What is a cloud based company?
A cloud based company is an enterprise that provides its users with systems, services, tools and applications for a monthly fee, via a cloud network. These companies have let go of the traditional ties of brick and mortar establishments such as storefronts, property ownership, and insurance.
By utilizing a cloud based brokerage, eXp Realty allows users to have access to a plethora of training, tools, and services, for essentially only a membership fee. Look at companies such as Uber, Netflix, and AirBnB, to name a few. None of these companies own property you are trying to buy, rent, or use. They own technology that allows people to connect with customers and meet their needs without a "middle" person. They essentially removed the "Dunder Mifflin Paper Company" middleman man; if you're a fan of The Office, then you know.
Uber owns no cabs, but rideshares still get you from point A to point B. AirBnB doesn't own any hotels or homes around the world, yet you can still rent everything from a room for the night to a mansion for the week.
Who started the first cloud brokerage?
eXp Realty founder Glenn Sanford saw the need for a cloud based realty company that could put the power back into the hands of agents and brokers who do the lion's share of the work in the realty industry. In 2009, he founded eXp Realty and brought to life the first cloud realty brokerage. With Glenn's "Compensation by Contribution" business system, he created eXp Realty in a way that would allow agents and brokers to be shareholders, thus investing them both literally and figuratively, in the success of the company.
eXp's Equity Icon Program
The incentive programs at eXp Realty are incomparable to any other brokerage. When you close your first transaction, you get equity shares. When you cap, you get equity shares. The compensation by contribution mindset is extremely apparent in the Equity Icon Program, especially for those reaching their cap plus twenty transactions, who then qualify to be an Icon agent.
Along with $8,000 dollars back in stock options, Icon agents have the opportunity to earn yet another $8,000 dollars for various achievements such as continued transaction completions, and attending the Shareholder Summit after their Icon status has been achieved.
These equity benefits total an extra $16,000 dollars for eXp agents ready to take it to the next level. Where else can you find a realtor incentive program like that?!
What is the difference between a Brick & Mortar Broker versus a Cloud Broker like eXp Realty?
You know what a cloud brokerage is now, but what does that mean for the users? A cloud broker essentially operates exactly like any other realty broker, but sans the brick and mortar you might be used to. This means they have more freedom, flexibility, resources, and technically, even more time to spend being productive!
Hey, the hours of your life that you spend driving to and from work add up over time! The overhead cost that goes into an enterprise that has an address is extensive. From machinery rentals and repairs, to utility bills, even someone to let people in at the front door, these all cost money. Without these fees, cloud brokerages have all of that said revenue to spend on enriching the skills and abilities of their teams.
Because eXp Realty is located any and everywhere, their agents and brokers can work with peers all over the country. This, for instance, gives an agent the opportunity to work with other agents and hold their houses open.
With eXp Realty's profit sharing program, eXp funds their profit sharing through revenues, and is committed to giving 50% of revenue back to the agents from the company dollar, not the agents. You would rarely find this in a traditional brick and mortar enterprise.
When it comes to technology and supplies, with a franchise realty brokerage, you are often limited by the availability. Training, certifications, and resources fall under the jurisdiction of your location, size, etc. With a cloud brokerage, not only are the possibilities endless, due to the digital nature of a cloud company, but eXp offers affiliate partners who provide realty based resources to eXp cloud brokers and agents.
eXp Realty's Growth over the past five years
The growth of eXp Realty has been rapid and exciting, but in the last half decade, the company has boomed exponentially, and is now 30,000 agents strong! In 2016 alone, eXp tripled their agent count! eXp was voted by Glassdoor, a transparent online agency that allows current and past employees to rate companies, as one of the best places to work in 2018.
Even during the COVID19 crisis we have continued to see growth and expansion within eXp. And if our country's need to find more work from home opportunities is indicative of anything, it looks like we're going to keep growing with every passing day. With our nation cutting cords everywhere, and looking for flexibility, eXp Realty is on a steady upward swing and there is no turning back from here. Like Frank Sinatra says, the best is yet to come!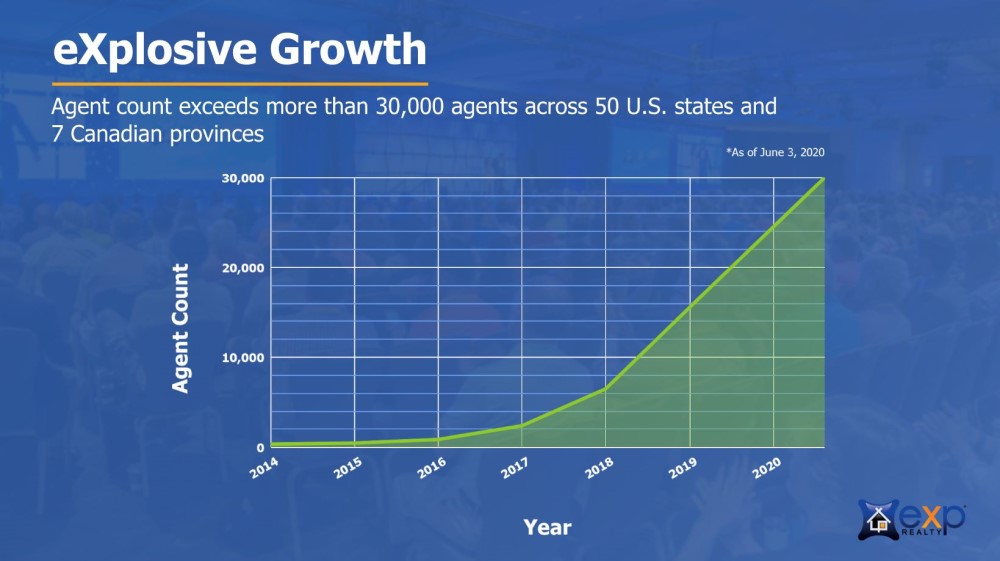 eXp Realty Core Values
The core values of any company can give you immediate insight into where they stand and the way they operate. eXp Realty was built on core values of;
✔ Community,
✔ Service,
✔ Transparency,
✔ Collaboration,
✔ Sustainability,
✔ Integrity,
✔ Agility,
✔ Innovation,
✔ and yes, even fun.
These beliefs shape the culture at eXp, and while many people all over the country are working together in this cloud network, they all follow and adhere to the founding values with which eXp bases its success upon.
The work environment you will find here at eXp is highly collaborative and reward based, like the Equity Icon program. Because there are always new people coming on board, new ideas are always transfused into the atmosphere, keeping the company agile and innovative, always on the brink of the new and exciting, while still employing tried and true paths to success.
The Benefits of a Cloud Based Brokerage
Of the countless benefits of working with a cloud based brokerage, perhaps one of the best is the access to infinite training resources. With over 50 hours of live training offered every week, agents and brokers can tap in on the areas where they feel they may need to brush up, or be an overachiever and take them all!
To put that into perspective, at a traditional brokerage, you may get one training a day, if you are lucky, or have a week set aside for training. With a cloud based brokerage, the training (and learning) never stops. And these trainings aren't just live, you can jump into the archive at any time, and find past trainings. With resources like these, there's no reason to ever stop learning.
eXp agents have to be established Icon Agents to even teach a class, so each of these training's are conducted by industry leaders, giving you their personal insight from experience, not a book. If you were working with a brick and mortar franchise, you might get a guest speaker per month, maybe if they are proactive, one every week. But in general, the top agents at your brokerage are probably not going to have the time to sit down with you and hash things out. And that's ok, they are busy. But at eXp, you have the opportunity to learn from countless top Icon agents, and they really WANT to be there.
Our eXp Realty Icon agents are encouraged to and rewarded for teaching classes, so you are getting their first hand expertise, and they are benefiting as well. Once again you see our core values here; community, collaboration, and service, just to name a few. In a cloud brokerage, we're all in this together, and we've got each other's back.
Have a question about eXp Realty that isn't answered here? Connect with me directly & I'll help fill in whatever missing information you need!
What is a Cloud Brokerage Conclusion
I truly can't think of a better time to establish yourself and your business with eXp than right now. Take, for example, the COVID19 crisis. eXp has never shut down, in fact, it continues to be on the rise as America looks for more "stay at home" work options, and working from home becomes a more concrete part of our lifestyles.
As I'll tell you time and again, I am an open book, and I love to share my success and tricks of the trade with anyone who thinks a cloud brokerage might be the place for them. I have so many wonderful colleagues who have reached out to me in the past, now coming back to tell me coming to eXp was the best decision of their lives, and I would love to do that for you. I can tell you, though; the number one thing I hear is "I wish I would have done this sooner." There really isn't a better time than today! Please reach out to me in any way that works for you, I've got your back. Let's make it happen!
Need help moving to Portland OR?
If you're thinking about moving to Portland OR, we can help you find your perfect home in the right neighborhood for you. If you have questions about moving to Portland, feel free to call, text, or email Jackson Wilkey or Jesse Dau.
P.S. Join your local peers!
Join our active Facebook group to get to know the city & the real estate market better
Or message us to day with your questions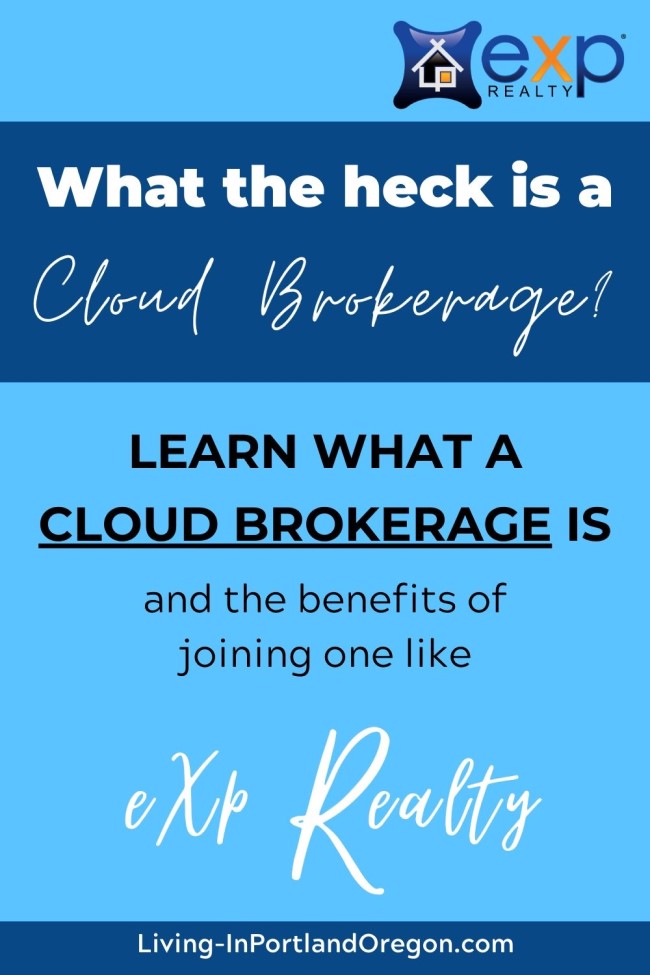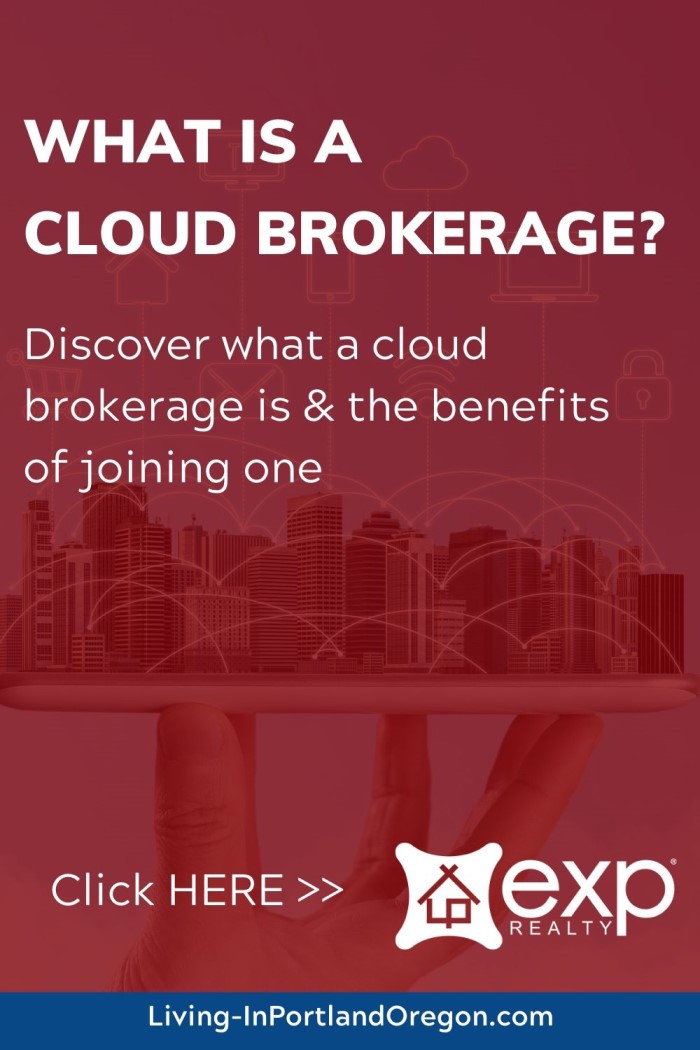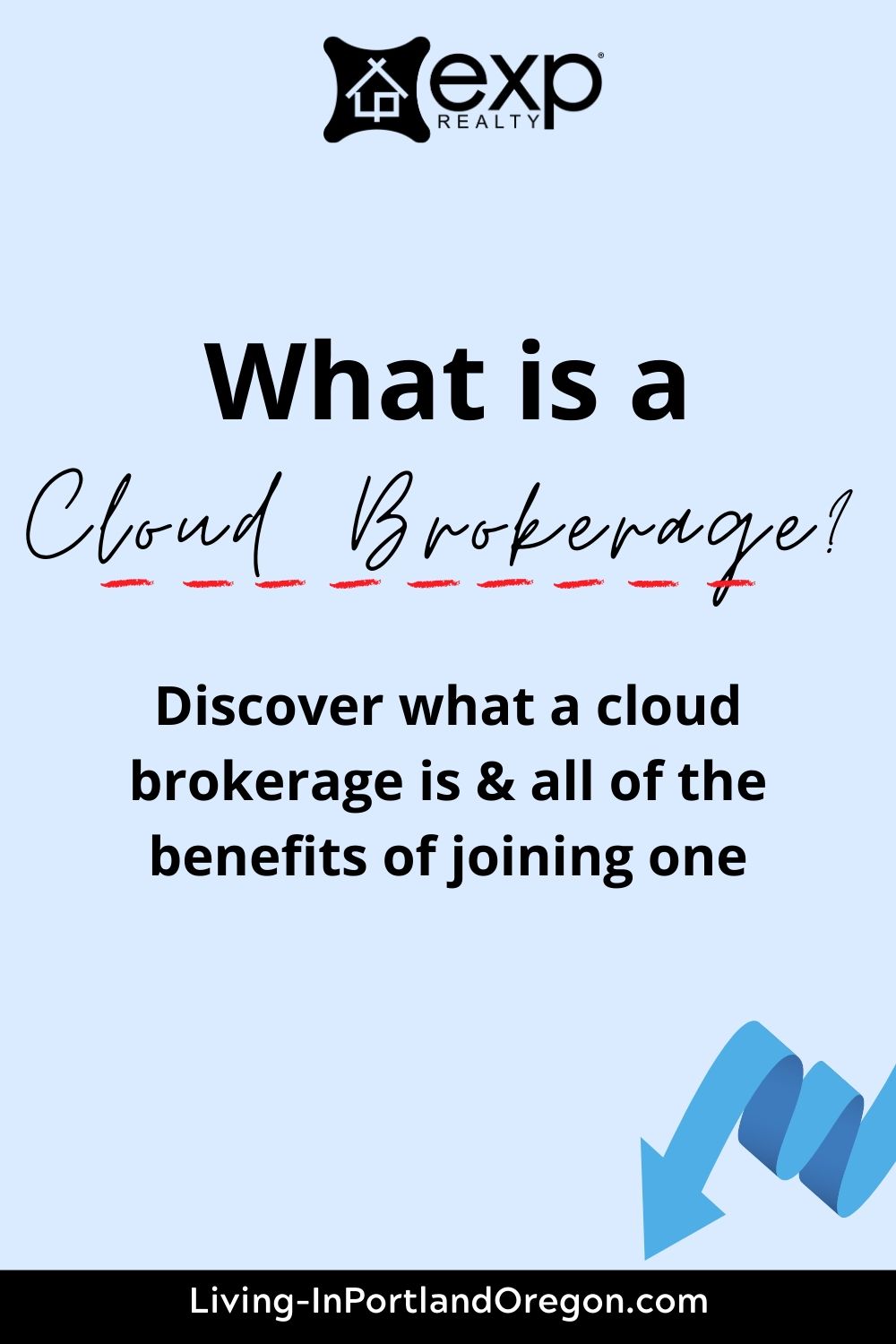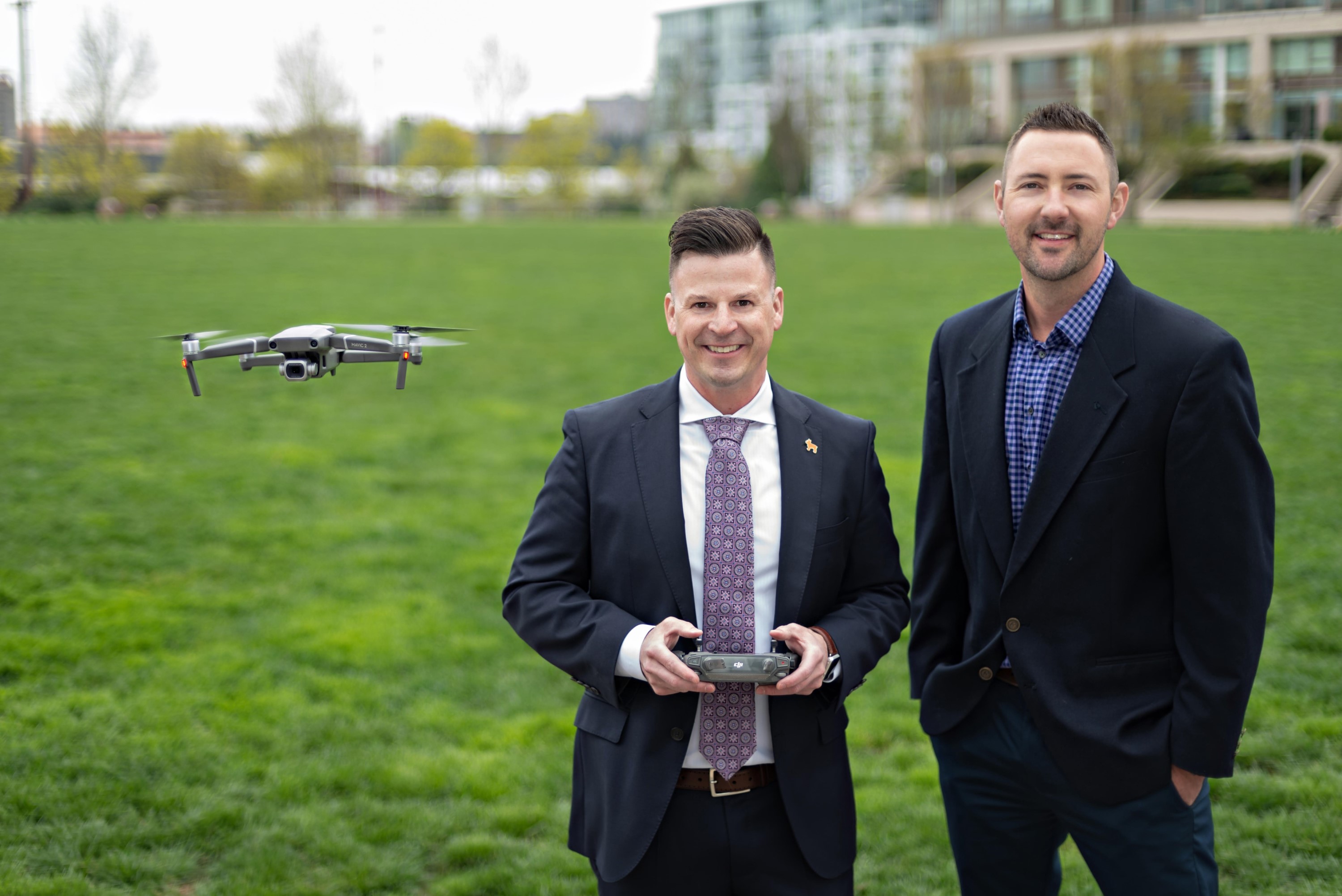 About Real Agent Now Group
Jesse & Jackson are high-touch broker's known for their extensive market knowledge and unmatched devotion to clients.
Their success is based almost exclusively on positive referrals. They earn the respect of their clients by working tirelessly on their behalf and by always offering them candid advice.
Get to know them better by checking out their Portland and real estate YOUTUBE CHANNEL.