eXp Realty Fees Explained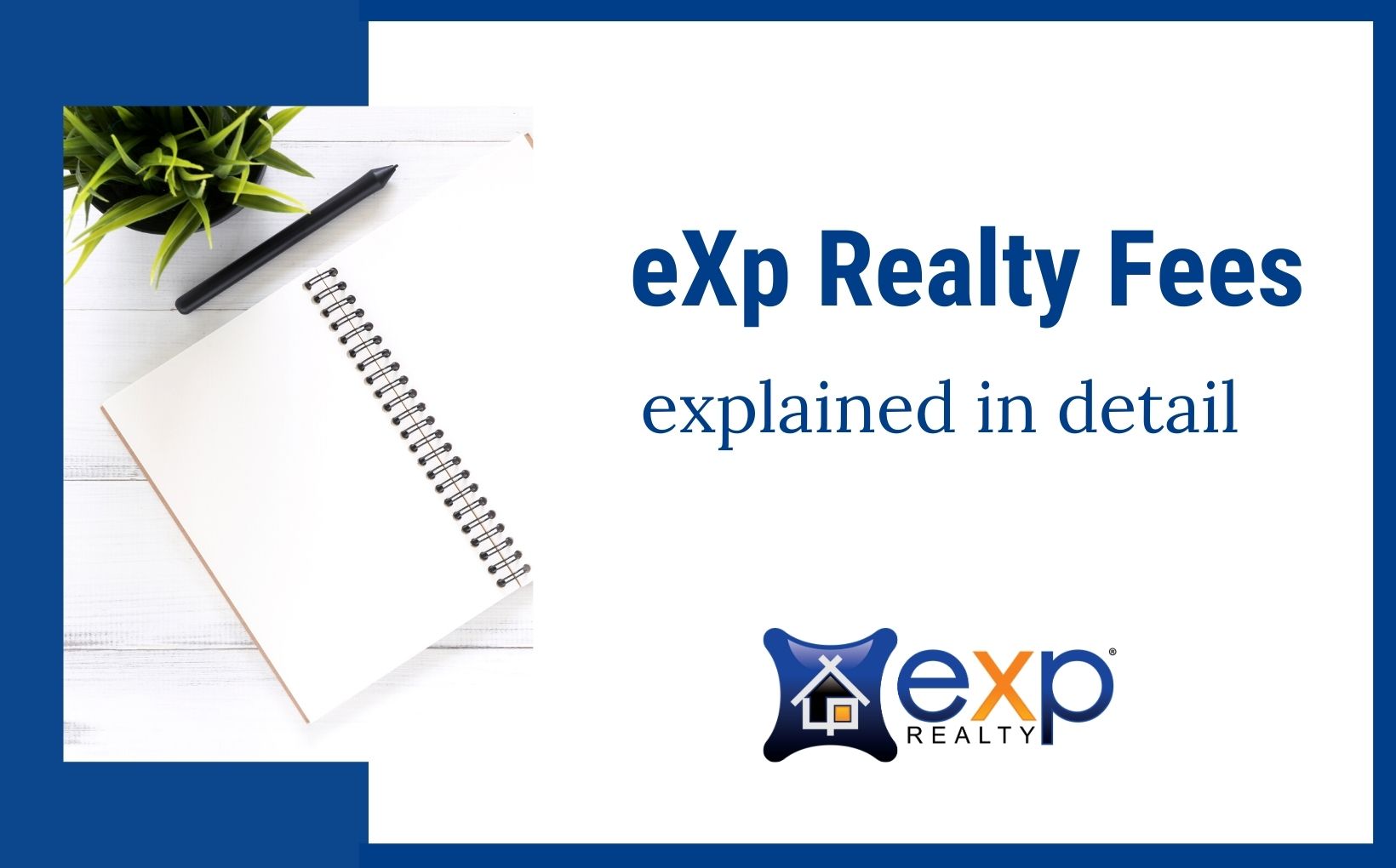 You know what they say, nothing is free. And the same goes for realtors having to pay broker fees. One of the benefits of joining eXp Realty are their reasonable fees. So today, let's talk about eXp Realty fees.
What does it cost to work at ExP? You might be wondering about caps, brokerage fees, monthly costs and start up fees; I've got everything you need. I'm Jesse Dau, real estate agent with eXp Realty, and I'm going to walk you through all of the fees & expenses you can expect when working at eXp. If you have any questions, or think you're ready to make eXp your next brokerage, please reach out. I get so many messages from people looking to make the move and I love it. I want to help you be one of them. You can catch me by phone, text, email, whatever works for you! Drop me a line and let's figure out if eXp Realty is right for you.
Interested in learning more about eXp Realty & how it could be the best game changer in your real estate business?? Check out our my YouTube Channel where I interview top eXp performers each week OR contact me directly. I'm happy to chat with you about your questions.
What is the eXp Realty Commission & Cap?
One of the first questions I receive when asking about eXp Realty are 'what are the eXp Realty fees?'. You already know you're going to find fees at any real estate brokerage. Some are more, some are less. Real Estate agent caps can range from $7,000 up to $40,000 per year. And I've even spoken with a real estate agent who, over the years, gave over a million dollars to her brokerage in fees! That's just crazy.
At eXp Realty, I think you'll find our fees somewhere in the middle. Are we the cheapest, no, are we the most expensive, also no. eXp Realty is like that middle bowl of porridge Goldilocks tried, it was just right! Most importantly, I want you to have a clear, full understanding and transparent view of what you can expect with eXp Realty fees.
The cap at eXp Realty is $16,000. eXp uses an 80/20 split commission, meaning 20% of your transaction commission is going back to eXp until you hit a contribution of $16,000. So where does this 20% go? When that money goes back to eXp, it isn't going to a person, like the owner of a franchise brokerage; it's going into resources for eXp agents, so at the end of the day, eXp agents are getting their money back. Let me explain how by going over eXps Revenue Share plan.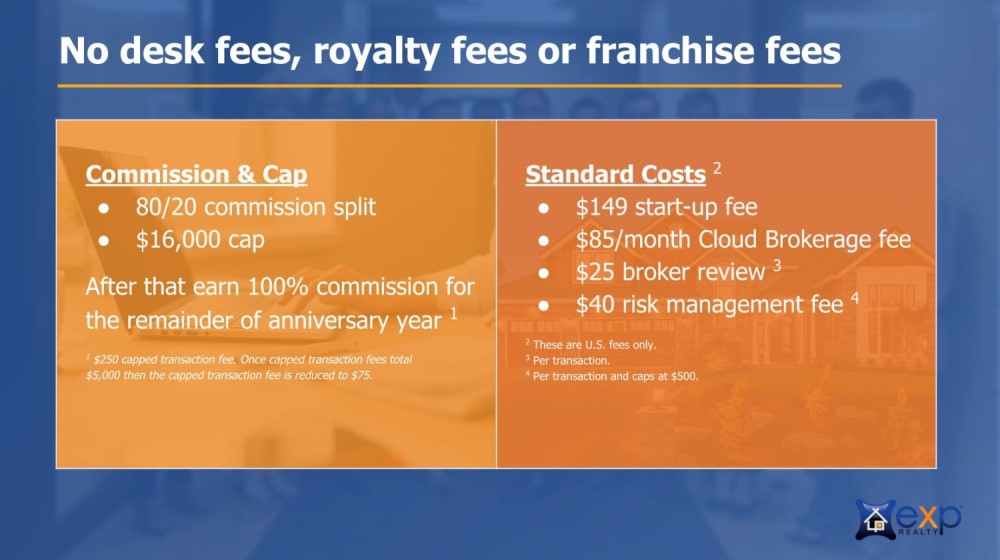 eXp Realty's Revenue Share program
One of the ways eXp agents earn their cap back is with the eXp Revenue Share Program. eXp is committed to giving 50% of its revenue back to the agents. This is all part of eXp founder Glenn Sanford's idea to provide an environment in which the agents who are doing the heavy lifting of realty work, can truly benefit from the contribution they made.
When you pay your 20% of your transactions, it goes into the revenue share, where you will essentially get it right back. That's a round- about statement of course, because while you can say someone gets a monetary amount back in resources, that's extremely hard to quantify.
The Revenue Share Program has seven tiers, and agents are eligible to work through all levels from one to seven. These tiers are based on a variety of factors, number of team members being included. To give you an example, a network of sixteen agents, all capping, would mean each agent receives a revenue share of $50,000. It's important to note, as well, that this is revenue, not profit. Even after retirement, these team members can continue to receive their revenue share.
eXp Realty's Transaction Fee & Icon Status
Once you have hit your $16,000 cap with eXp Realty, what happens next? Agents then move to a straight $250 transaction fee, and you keep 100% of commissions earned. Once you've reached $5,000 in transaction fees after capping, your transaction fees drops to $75 per transaction fee for the remainder of your anniversary year. After you have completed twenty transactions at this level, you're then eligible to attain Icon Status.
Applying to become an Icon agent is simple and transparent; all they are looking for is your contribution to and representation of eXp Realty. Icon agents are top agents at eXp, including having the ability to teach training courses.
Once accepted as an Icon agent, you become eligible to receive $16,000 back in stock options. You will receive $8,000 instantly, with the option to earn another $8,000 through various programs such as attending a shareholders summit or meeting cultural requirements. With eXp's Agent Equity Program, agents can enroll to be eligible to be paid 5% of every transaction commission, with stock at a 10% discount. Agents earn shares with their first ever transaction closure, and continue to have opportunities to earn more.
Remember that $16,000 dollars from earlier? So you "gave" that money to eXp, but now you're getting it back in shares? Exactly. This is why everyone is jumping to join eXp. In my opinion, you won't find another brokerage that gives you more bang for your buck!
Standard Costs to get started with eXp Realty
Let's talk about the basics. There are some start up costs and standard monthly fees that come with being an agent at eXp Realty.
A $149 start up fee gets you set up and ready to go on all systems, ready to use the cloud campus, and set to go on training. This includes eXp University, which offers our fourteen classes in fourteen days fast track program for agents new to real estate.
Your $85 monthly cloud brokerage fee allows our cloud campus to stay up to date and maintained, and gives you access to all your training and monthly classes, HR access, IT support and more.
The brokerage fee of $25 is due per transaction. This small fee allows your broker to review your transaction and files, making sure you have missed nothing and are ready to go. For eXp real estate agents in Canada their brokerage fee is $29 per transaction.
Last of all, you'll pay a $40 risk management fee per transaction that dissolves after twenty transactions, or caps at $500.
To recap, these fees are all very straightforward and transparent. If you never hit your cap, there is no penalty fee. eXp Realty wants to set you up for success, and for a career that appreciates over time.
Recap of eXp Realty's Commission Split & Fees
Based on an example where an agent does 60 transactions in one year, here is how their commission split & fees would look like:
$149 one time start up fee

$1,020 – $85/month cloud brokerage fee

$16,000 – Cap plus…

$5,000 – $25 per transaction broker fee. Once this is hit then…

$1,000 – $75 per transaction fee

$500 – in Risk Management fees

Under $24,000 – Total eXp Realty Commission Split Fees for the year
Team Models & their fees at eXp Realty
At eXp Realty, you operate as teams. Because we are a cloud based brokerage, your team allows you to work with individuals in a community and collaborative setting, even though you aren't physically in the room with them. Teams are defined by one team lead agent, and one or more licensed team members working together with the team lead, who has a team agreement. There are three different team models at eXp. Let's talk about what these teams look like.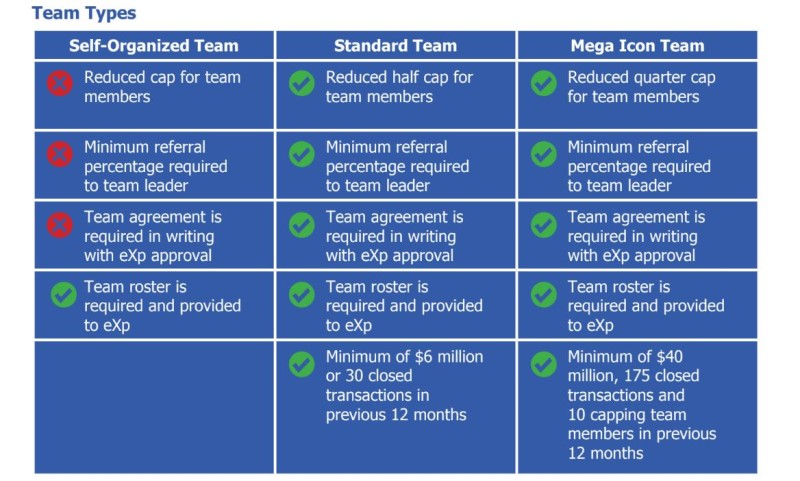 Self Organized teams at eXp
A self organized team at eXp Realty is just that, self organized. You are placed on a team as an individual. It's a bare bones option. While all self organized team members are still eligible for 100% of the stock options, there are no financial benefits for them. There are also no minimum monetary or transaction closure specifications on this team. All members operate as an individual, with the same working structure as a solo agent, but work on a team and are still eligible for 100% of stock options. These agents can still obtain Icon status even from a self organized team.
Like I mentioned above, a team needs only a team lead and team member, so theoretically it's just fine to work on a team as small as two, beneficial for some even. If you are doing at least thirty deals per person on the team; so your team is completing sixty deals, this would be a beneficial situation, because both parties can become
Standard Teams at eXp Realty
To qualify for the standard team, agents must complete thirty transactions, or reach a minimum of six million dollars in transactions in a year. Team leads still pay a $16,000 cap, and agents beneath them will get a half cap of $8,000 cap. While it's a nice break to reduce your cap by 50%, these team members agents receiving a half cap are not eligible to receive Icon Status. Like all eXp agents, they can still receive all other benefits offered by eXp.
Once agents on the standard team have hit their cap, the transaction fee for both team leads and team agents becomes $125, so they are splitting their $250 dollar transaction fee 50/50.
Some of these fees can be adjusted in SkySlope per the desires of the team, such as the team lead paying the entire transaction fee, these adjustments just need to be outlined in the team agreement and approved by eXp.
(SkySlope is an all in one platform that allows agents to start and finish their transactions within a single platform)
The Standard team set up is clean cut, easy to understand, and beneficial for the vast majority of eXp Realty agents.
Mega Icon Teams at eXp Realty
When we move to the Mega Icon Team, things get a little more regimented. The qualifications for this team are not an either or, like in the above teams. To qualify, these teams must: have a minimum of $40 million in transactions in the last twelve months, 175 closed deals, and must have ten capping agents, including the team lead.
The cap for these ten agents is $4,000, or ¼ of the standard $16,000 cap. Once this team hits their cap, they are not required to pay any transaction fee. If Mega Icon Teams do not reach their $56,000 contributed to the company dollar, the team leader is charged by eXp for the difference, since these agents are waived of all fees and enjoying all benefits. All of these Mega Icon team agents are eligible for all benefits, including revenue share and Icon status.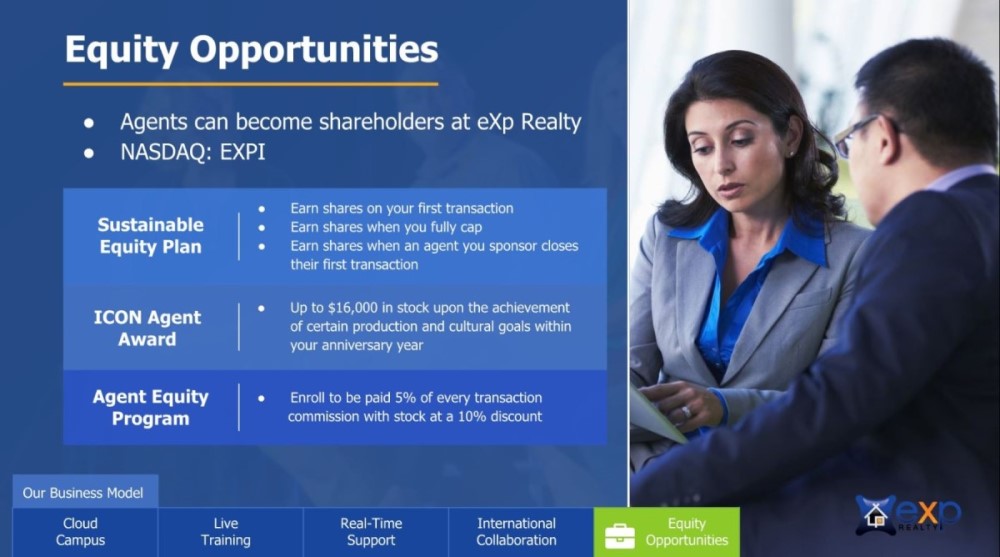 Have a question about eXp Realty that isn't answered here? Connect with me directly & I'll help fill in whatever missing information you need!
eXp Realty Commission & Fees Conclusion
Any of these above teams are great options, and regardless of the type of team you decide to join is the right fit for you, there is a fit at eXp for everyone. If you think eXp Realty looks like the place for you, I would love for you to reach out today. The most common thing I hear from agents who have made the switch to eXp is "I wish I would have done this sooner!" so do it today, because tomorrow you might be wishing you did! As always, I've got your back, and I'm here for you when you're ready to make the switch to eXp Realty.
Need help moving to Portland OR?
If you're thinking about moving to Portland OR, we can help you find your perfect home in the right neighborhood for you. If you have questions about moving to Portland, feel free to call, text, or email Jackson Wilkey or Jesse Dau.
P.S. Join your local peers!
Join our active Facebook group to get to know the city & the real estate market better
Or message us to day with your questions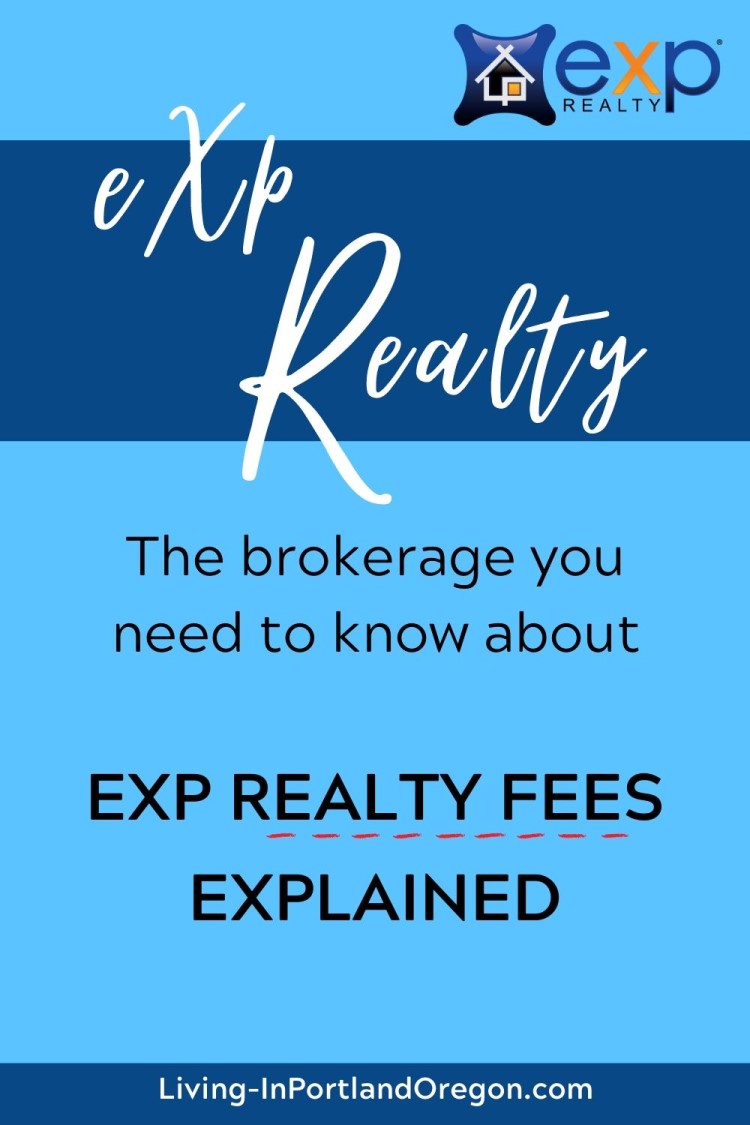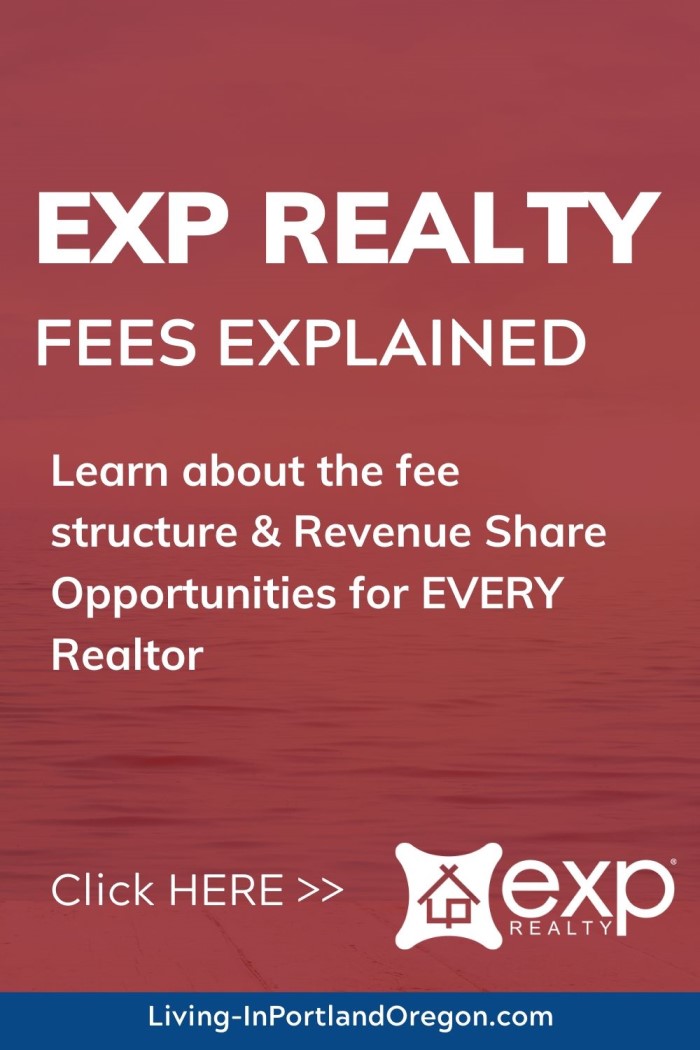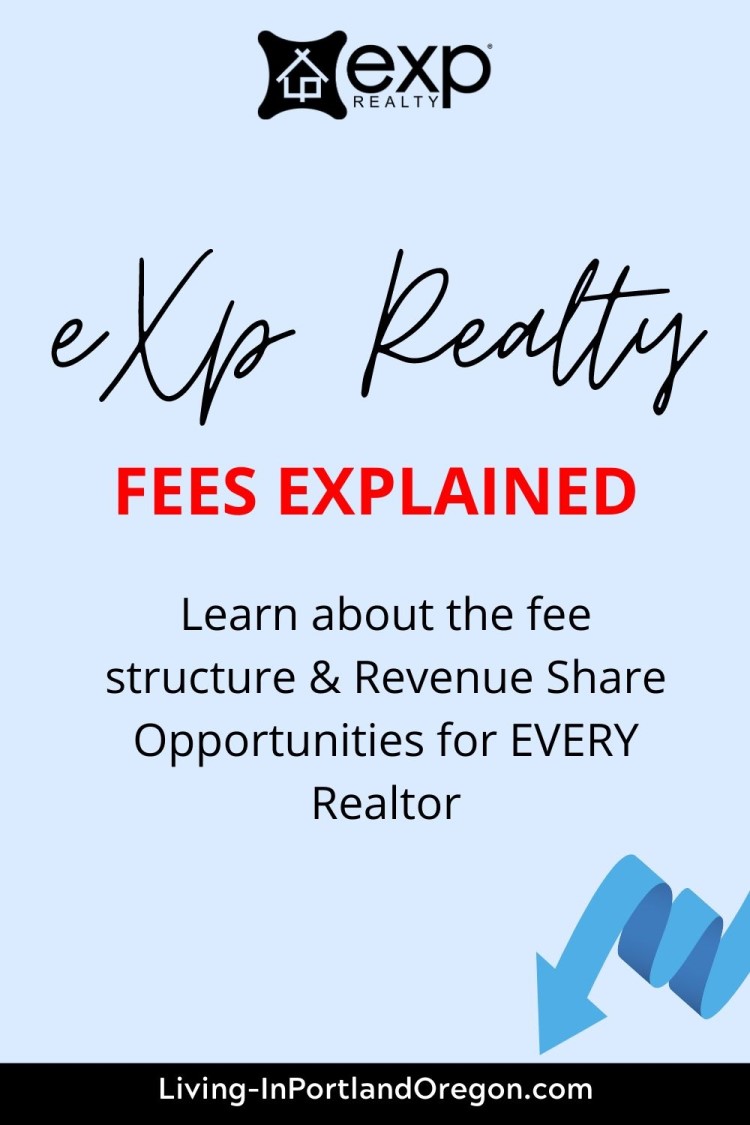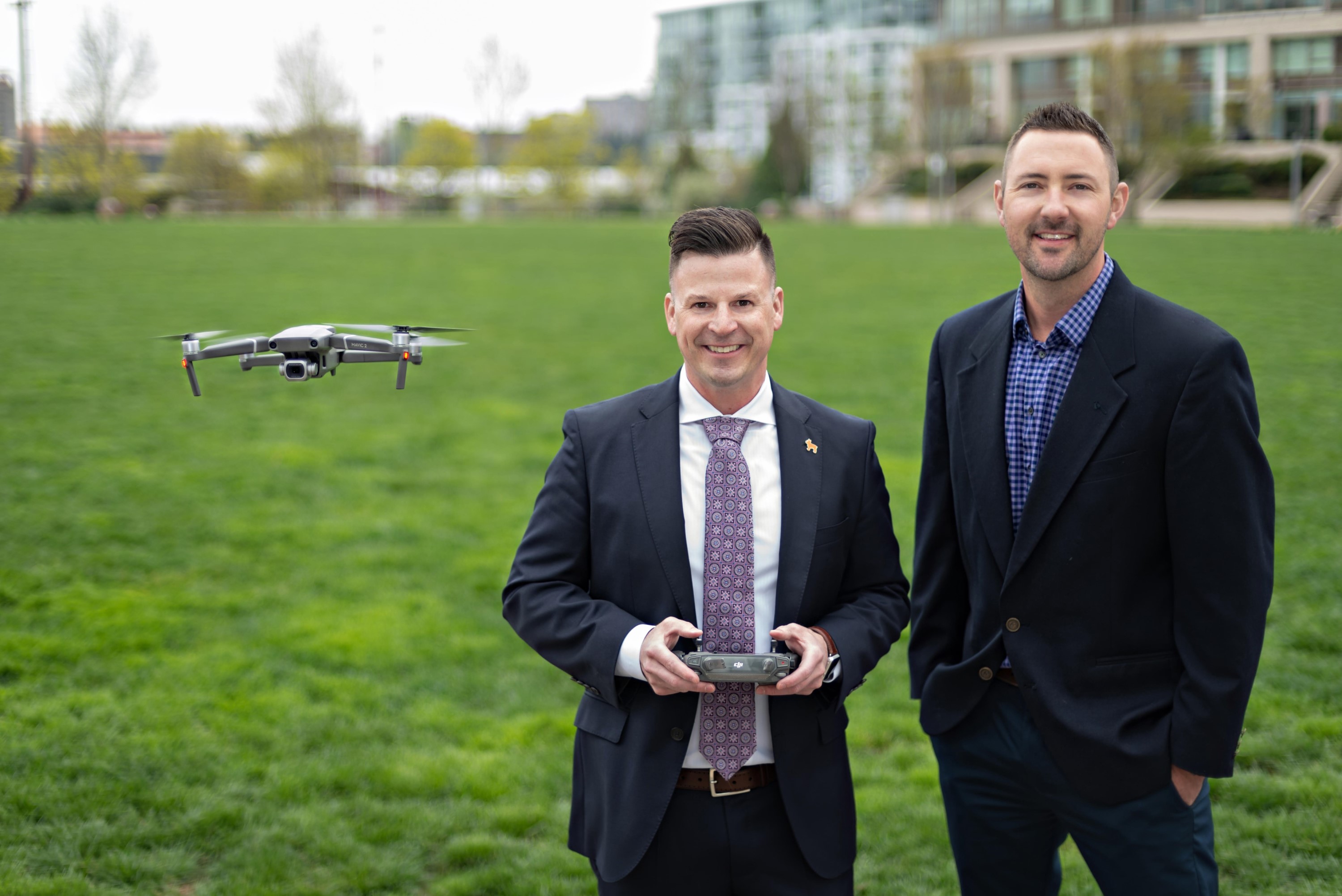 About Real Agent Now Group
Jesse & Jackson are high-touch broker's known for their extensive market knowledge and unmatched devotion to clients.
Their success is based almost exclusively on positive referrals. They earn the respect of their clients by working tirelessly on their behalf and by always offering them candid advice.
Get to know them better by checking out their Portland and real estate YOUTUBE CHANNEL.