Living in Vancouver Washington vs. Portland Oregon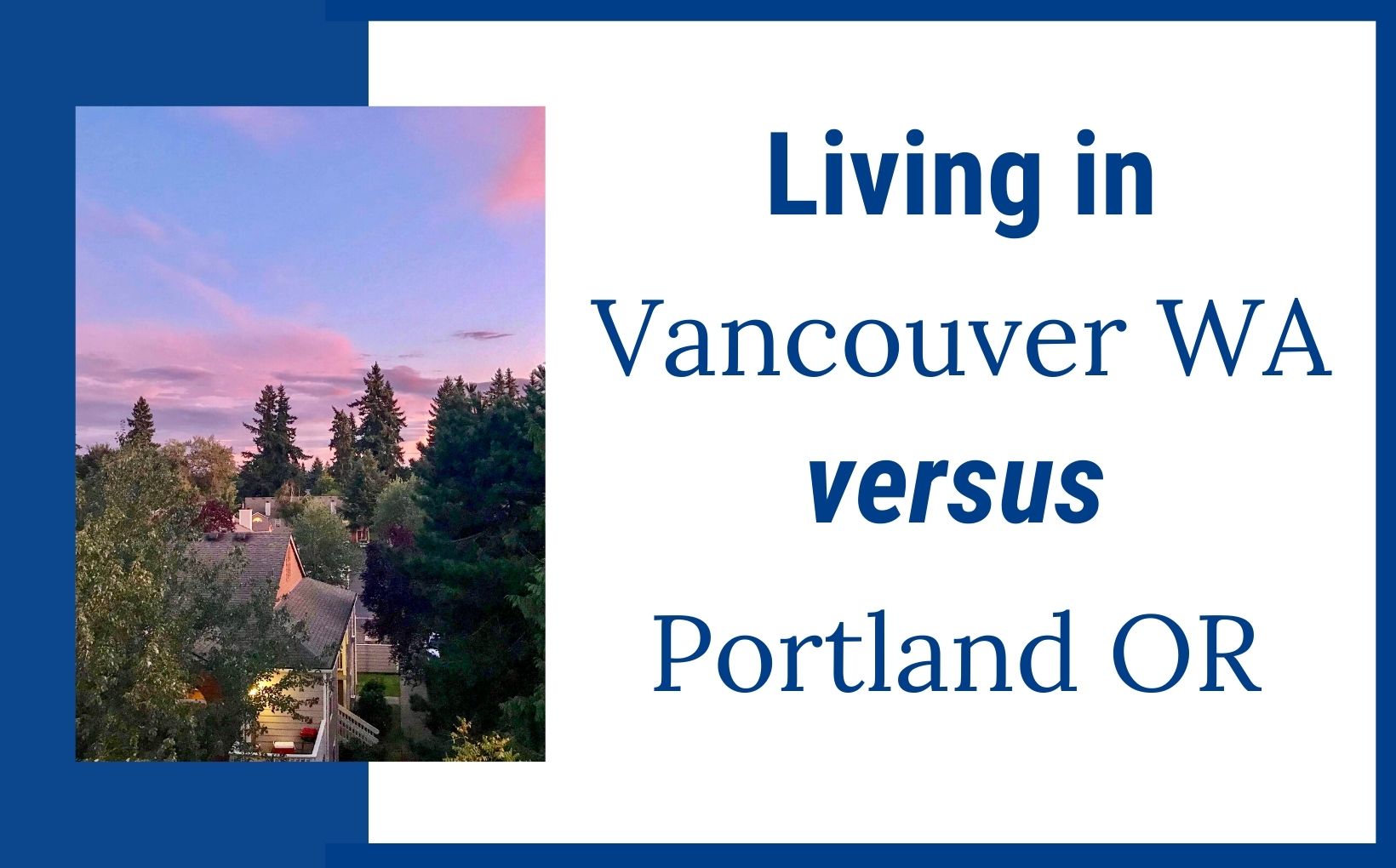 Don't just take our word for how great living in Vancouver, Washington can be. Sure we're local Portlanders, dedicated to bringing you the best of what our city has to offer. But we also want you to be able to see the city for yourself and walk its streets with us on our Youtube channel.
If you're interested in seeing more about these dynamic neighborhoods, check out our channel for tons of video content for each neighborhood, or get in touch with us directly for any questions you may have.
Have you wondered what it's like to live in Vancouver, Washington versus Portland, Oregon? Is Oregon better than Washington or the other way around? Well, we've done the legwork for you and sought out some pros and cons about living in Vancouver, Washington compared to Portland, Oregon.
Differences When Living in Vancouver vs. Portland
We work with tons of clients all over the United States, and we absolutely love being able to provide tangible information so that our clients can get exactly what they want. If you're looking to move to Portland or Vancouver, we wanted to be able to weigh out the options and give you information that would help you with that decision.
We think that Southwest Washington has a lot to provide for the people that come to us for help on their home purchases. That's why we're licensed in Southwest Washington, as well as Portland, Oregon.
So, let's jump right in to see some of the differences you'll find when living in Vancouver vs. Portland.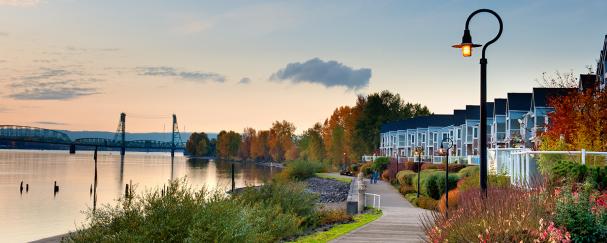 To get to Vancouver, WA from Portland, OR, you only have to cross over a couple of bridges, and you are right in Downtown Vancouver. As you drive into Vancouver, Washington, the one thing you'll notice is that it's more of a small-town feeling than Portland.
Vancouver's downtown area is also more compact than Downtown Portland, where it's more sprawled-out. It's more of a tight-knit feeling on the Vancouver side of the river, and there's still tons of fun to be had with some really great shops and restaurants.
Many of the shops, restaurants, and bars, have the same sort of vibe as the Portland scene; unique, quirky and homey. Downtown Vancouver is definitely not as big as Downtown Portland and doesn't have quite as many options, but it still offers quite a bit and with so many people craving that 'Portland vibe' Vancouver WA offers a great, more affordable place to get that.
The center of Downtown Vancouver, WA is considered to be located in Esther Short Park, where Columbia and Sixth Street cross. Similar to Portland, they hold a big Saturday farmer's market where you can find funky gifts, artworks, fruits and vegetables, house plants, and lots of other really neat items. There are usually a ton of people down there, it's pet-friendly, and it's also a great place to bring kids.
The farmer's market in Vancouver, WA typically runs during the spring and summer from March to October. Similar to Portland's Waterfront Park, Esther Short Park is also home to a small water feature designed for kids to play in. So, it's a really unique area with lots to do for the whole family.
Vancouver, Washington Real Estate
If you take a short walk from downtown Vancouver to the waterfront, you'll find a brand new pier. With a crisp, modern design, the pier's structural engineering is on point. The new pier hosts some amazing new restaurants, affordable waterfront condos, and hotels–each of which perpetuates the awesome, modern architectural layout and overall design of the area.
And, if you glance across the Columbia River, you'll see the Portland skyline. Because Portland is a more developed city, the skyline makes for an ideal view.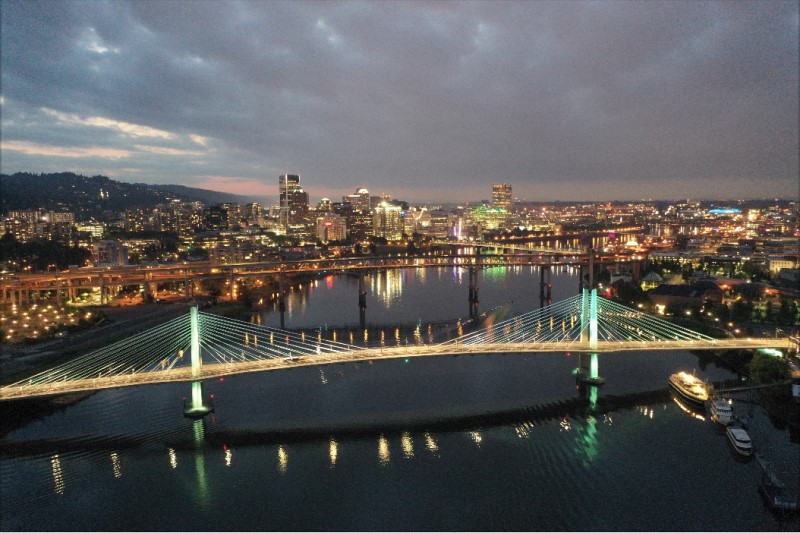 The new waterfront real estate available in Vancouver really is a must-see. So we're going to talk about what it's like to live in the heart of Vancouver, Washington and the different types of living available on the South Waterfront. You'll find that it's a mix of condos, apartments, and hotels.
There's a lot of this style in New York City; where the condos co-mingle with the hotels. It's a cool setup because if you live in one of those spaces, you receive access to all of the amenities that the hotel offers. It also makes it easy to generate a bit of side income if you want to rent out your place as a vacation unit.
Living in Vancouver Washington vs. Portland Oregon
The main question we here is "Is it cheaper to live in Portland or Vancouver WA?" Whih brings us to another thing that's pretty unique about the Portland-Vancouver connection, and that's taxes. Washington state has no income tax, but there is sales tax. Portland has no sales tax, but they do have an income tax. So, regardless of where you live, Portland is a great place to do your grocery shopping.
When it comes to yearly property taxes, you're getting a better deal in Vancouver at a rate of 1.025% vs. Portland's 1.197%. 114.3 points vs. 130.8, the cost of living in Vancouver is also less than Portland.
We've actually worked with quite a few clients who live in Washington but work in Oregon. This is because you can buy a home right across the river from Portland and get a newly-built house for say $400,000 that might set you back around $600,000 in Portland. So, you do get a lot more bang for your buck when it comes to real estate in Vancouver, Washington.
Now, while you may be saving on the cost of your home, living in Vancouver over Portland means you may experience a different style of life. Vancouver doesn't have a huge downtown infrastructure or a lot of commerce, so you're going to have to travel a little bit for some things. At around 372,000 people employed in Portland compared to just 87,000 in Vancouver, you'll find more Vancouver residents crossing the river for their day job than the other way around. As Vancouver develops, you should expect that this will even out a little bit, allowing more people to take advantage of the zero income tax in Washington.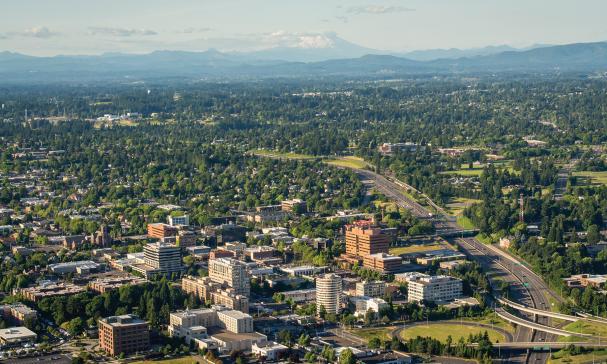 Why the Need to Choose Between Portland and Vancouver?
What separates Portland and Vancouver to make this location decision a reason to talk? The Columbia River!

The Columbia River separates Washington and Oregon. The river allows people to live both sides of it in Portland whereas, in Vancouver, you just have the one side with river availability. So, the Vancouver riverfront is likely to become extraordinarily coveted as the city continues to develop.
Both cities are also separated by Interstate 5 and Interstate 205; those are the two main freeways that run north and south. I5 runs from Canada to Mexico. In Vancouver, everything west of I5 is considered to be West Vancouver, anything on the east side of the freeway is considered Northeast or Southeast Vancouver.
There are some great neighborhoods in Vancouver, on both sides of the I5, including Fisherman's Landing, Camas, Ridgefield, Battleground, and Salmon Creek, to name a few. Portland has the Alberta Arts district, Hawthorne, The Pearl, Division, Nobb Hill and, quite frankly, many, many more than Vancouver.
You will run into more traffic in Portland than in Vancouver, with it taking an average of 25 minutes to get from PDX International Airport to Downtown Portland, and only 15 minutes from Downtown Vancouver to Downtown Portland. That's because it's a straight shot down the I5 from Vancouver and a bit of a winding path from the airport to downtown Portland.
Thinking of Moving to Vancouver or Portland?
In conclusion, there are pros and cons to living in each Vancouver and Portland. We'd have to say that there are a lot of great benefits on both sides of the river. The key factor for Vancouver is the affordability of the real estate market.
You can invest in a super nice place to live in Vancouver for way less than Portland. Portland, however, has a lot more going on as far as jobs and entertainment are concerned. Having said that, in Vancouver, you're only five miles to Downtown Portland.
So, it's a case of what's most important to you when considering moving and investing in real estate in the Portland Metro area.
Need help moving to Portland?
If you're thinking about moving to Portland, OR, we can help you find your perfect home in the right neighborhood for you. If you have questions about moving to Portland, feel free to call, text, or email Jackson Wilkey or Jesse Dau.
P.S. Join your local peers!
Join our active Facebook group to get to know the city & the real estate market better
Or message us to day with your questions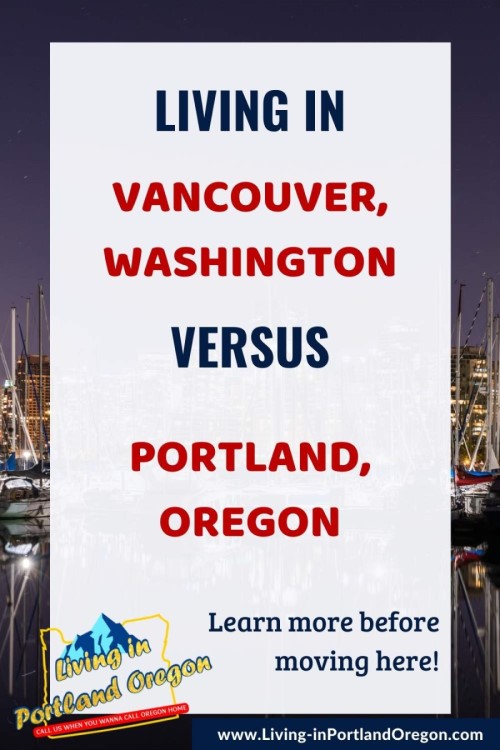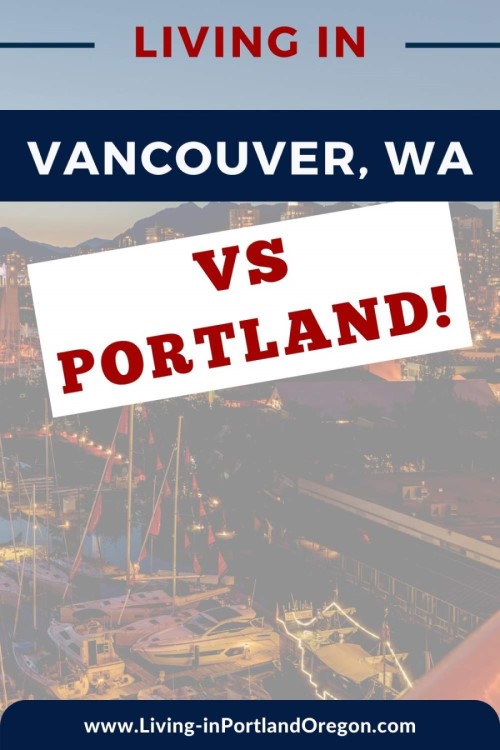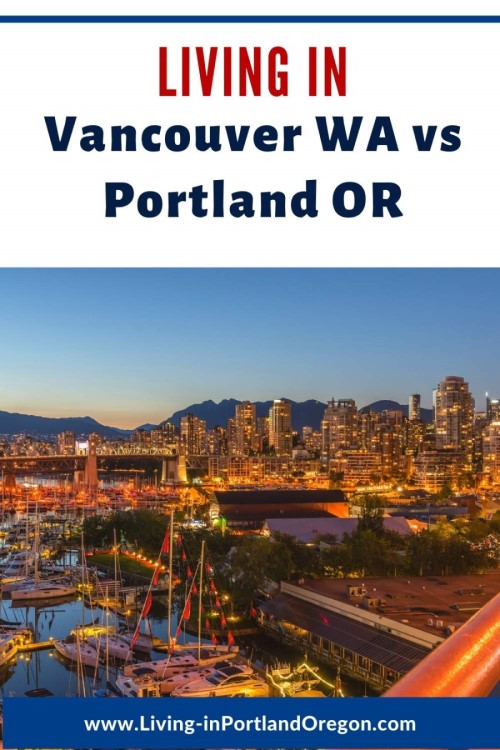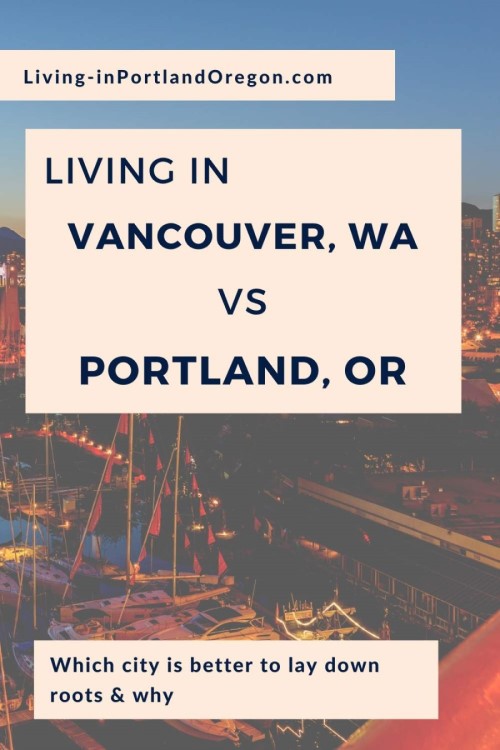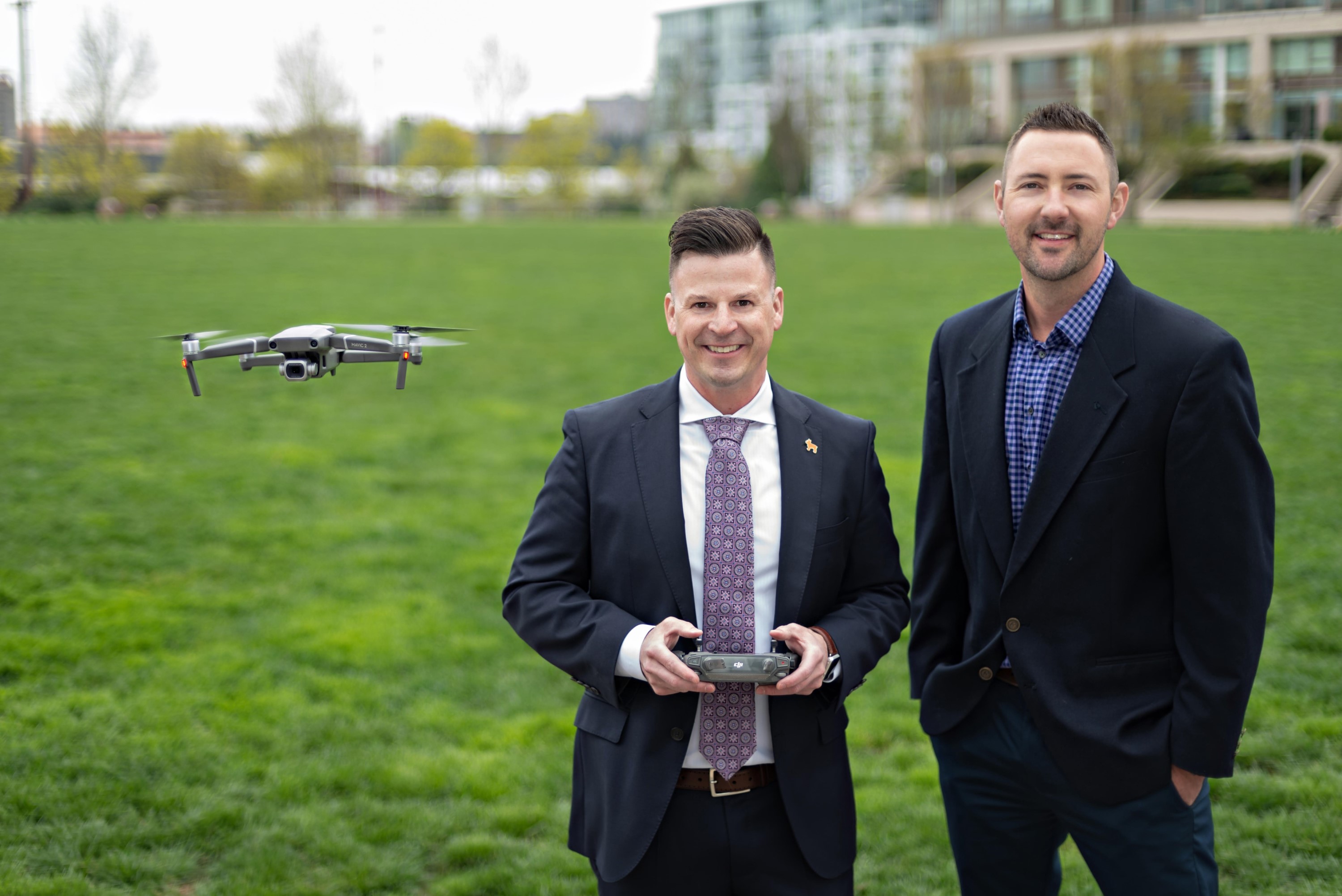 About Real Agent Now Group
Jesse & Jackson are high-touch broker's known for their extensive market knowledge and unmatched devotion to clients.
Their success is based almost exclusively on positive referrals. They earn the respect of their clients by working tirelessly on their behalf and by always offering them candid advice.
Get to know them better by checking out their Portland and real estate YOUTUBE CHANNEL.