Top 5 Hottest Hoods in Portland Oregon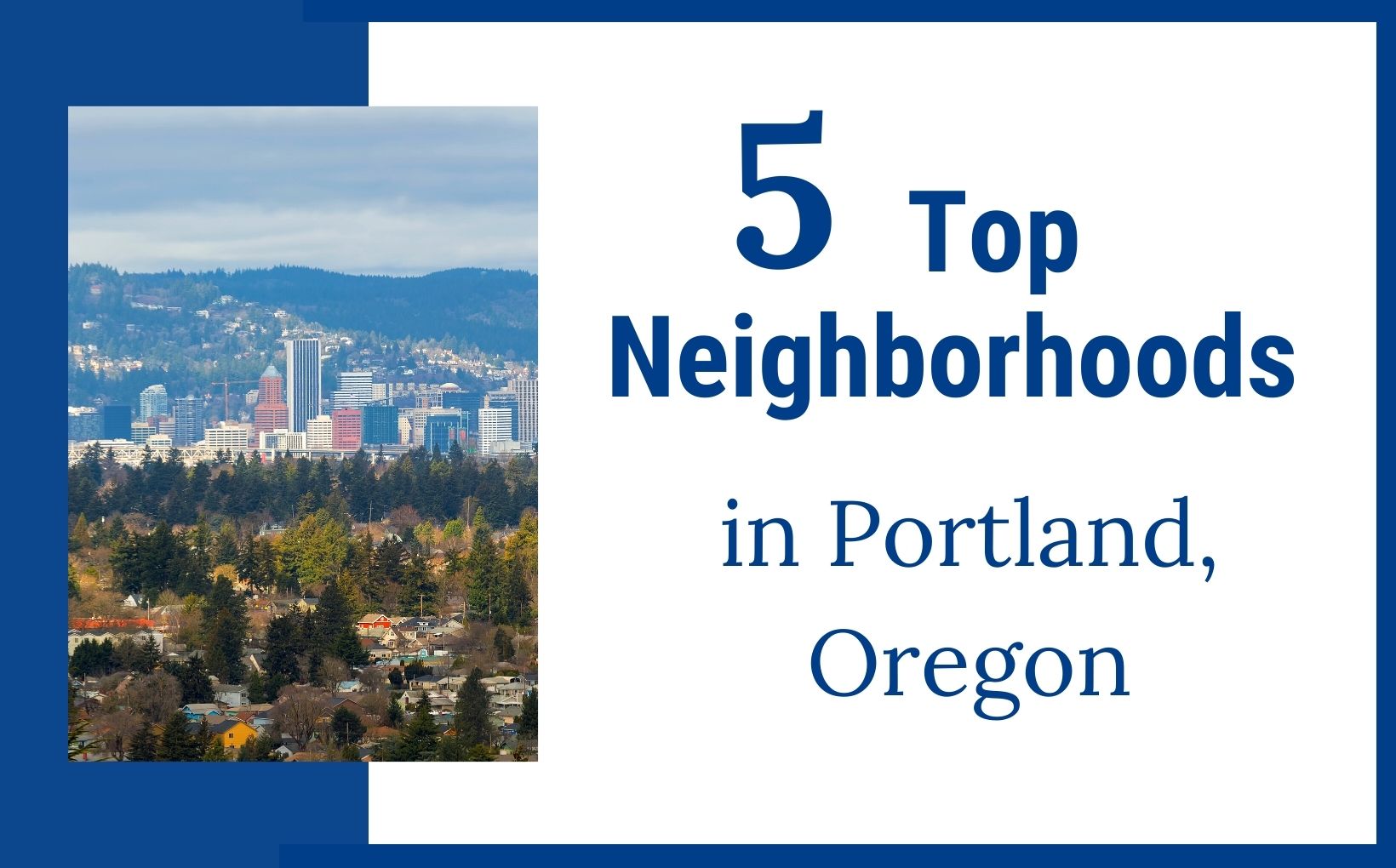 You probably already know that PDX is a great place to live, but where's the top neighborhood to live in Portland? If you've been thinking about moving to Portland or investing in the Portland real estate market, you'll probably want to know where all the hottest neighborhoods are here. Using our combined experience and stats on the areas with the most real estate activity, we made a list of the best neighborhoods to live in the Portland area.
Keep in mind, Portland has been a popular place for a long time now. So much so that:
Portland is the 25th largest city in the United States.
A recent

Forbes

article found that Portland is the 10th fastest-growing metropolitan area in the United States with a stable growth rate of 1.8% per year.
In October 2015,

Oregon Metro

released its urban growth report, which contains their population projections for the next twenty years.
Oregon Metro predicts further growth up until at least 2040. The current population of Portland is 653,115, and Oregon Metro anticipates that there will be over 3 million residents by 2040!
Portland is so infused with culture and uncommon beliefs that it has a habit of making an impression on people who explore it. It's a place where people come for a visit and stay for a lifetime. The song 'I left my heart in San Francisco' was great at the time, but it's Portland who takes that privilege now.
Oregon even has its own song about leaving your heart in Oregon. The song is called 'Coming Home' and has been played in more than one Oregon Ducks game. In fact, this is what one long-time resident and YouTube commenter had to say about leaving his heart in Oregon:
"I was born in Oregon then went to college… joined the military.. lived in 14 states, three countries, two wars…I got out of the Army and the first thing I did was move back to Oregon after 17 years. I took my mom to a Ducks game and they played this song. I had never heard it before, and it blew me away how close it hit home (especially with 58,000 fellow Oregonians singing along)."
If you enjoy more culture than you can shake a tree at, killer nightlife, national-review-worthy food, homegrown microbrews, the great outdoors, and really nice people, Portland, Oregon might be the spot for you.
1. Tigard
Let's start with Tigard. It's a pretty great place to live (we know firsthand because both Jackson & Jesse have lived there). Tigard is located in Washington County, Oregon. As of 2018, Tigard has a population of 54,758 people. It's a part of the Southwest Portland metro, and you can find yourself in Downtown Portland from Tigard in just 20 minutes. With great schools, parks & recreation, job opportunities at Fortune 500 companies, and easy access to an abundance of top-rated wineries, Tigard couldn't get much hotter.
To dig into what makes this place such a great bet, we'll start with a quick backstory of how it came to be. Up until 1852, Tigard was known as 'East Butte.' The name was changed to 'Tigardville' after the Tigard family, headed by Wilson M. Tigard, settled and started both commercial and residential construction there.
A home built by the son of Wilson M. Tigard still stands in the area today. The John Tigard House, saved from demolition in the 1970s by the Tigard Area Historical and Preservation Association, has now been named as a historic landmark. After being moved from its previous location, the house now stands at the corner of SW Canterbury Lane and SW 103rd. Up until the age of 109 years old, the grandson of Tigard's founder, Curtis Tigard, held many open houses at the John Tigard House and shared with its visitor's stories of what made Tigard the city it is today.
This charming chronicle of events led to a strong foundation for becoming one of the most family-friendly neighborhoods in all of Portland, Oregon.
As well as having a ton of great recreational activities to suit the whole family, Washington County also has the #1 best high school in Oregon, School of Science & Technology, and the #3 best public elementary school in Oregon, Lake Grove. According to Niche.com, out of the 27 schools in and around the Tigard area, an astounding 20 hold a prestigious 'A' rating.
With nearly 550 acres of parks, greenways, and natural areas, the City of Tigard is one of the greenest areas in the Portland metro. Tigard's largest park, Cook Park, sits on the Tualatin River and firmly stands its ground with 79-acres of awesome outdoor recreational opportunities. The park has picnic shelters, sports fields, wetlands, wooded areas, open space, and even a butterfly garden. The huge variety of amenities you'll find at Cook Park are as follows: ball and soccer fields, picnic tables, BBQ grills, picnic shelter rentals, Horseshoe pits, play structures, basketball courts, sand volleyball courts, a boat ramp and dock, fishing areas, butterfly gardens, many different nature trails, and other natural areas.
Another Tigard-based park of particular note is Jim Griffith Memorial Skate Park. Attracting skaters of all ages and skill levels, the specially designed park has two large flow bowls, a mini bowl, a rotating volcano top, street features, and a concrete dinosaur.
The median home price in Tigard is around $444k. In Portland, the average home cost is $435k. The real kicker here, though, is what you get for the price. Portland real estate has an average cost of $231 per sq ft, whereas Tigard is a lot less at $223 per sq ft. Say you you're looking at a 2,000 sq ft home in Tigard. According to the average per-sq-ft for Tigard, that house would cost you $446k. In Portland, the same 2,000 sq ft house would cost closer to $462k. Although Portland as a whole provides excellent value for your hard-earned cash, the $34k gap in this example shows just how much more bang you'll get for your buck in Tigard, OR.
2. Greater South Portland
Next up is more than one area; Happy Valley and Oregon City. Both are south of Portland, have tons of similarities, and are currently enjoying lots of real estate activity. They also have a similar suburban feel to Tigard.
Oregon City and Happy Valley are a straight shot to Mount Hood, the picturesque Oregon coastline, and each place puts you within a 30-minute commute into Portland.
The US Census Bureau calculated that the population of Happy Valley grew from 14k in 2010 to 22k in 2018. That's an astonishing amount of growth in just 8 years. Oregon City has a larger population, measuring over 37k in 2018, but a much slower growth rate since the previous US Census Bureau's last headcount, which was almost 33k, in 2010.
At a median value of (depending on who you ask) anywhere from $519k to around $554k, more than half of the homes in Happy Valley were built after the year 2000. These brand new builds boast stunning interiors, and they usually have an outside view to match.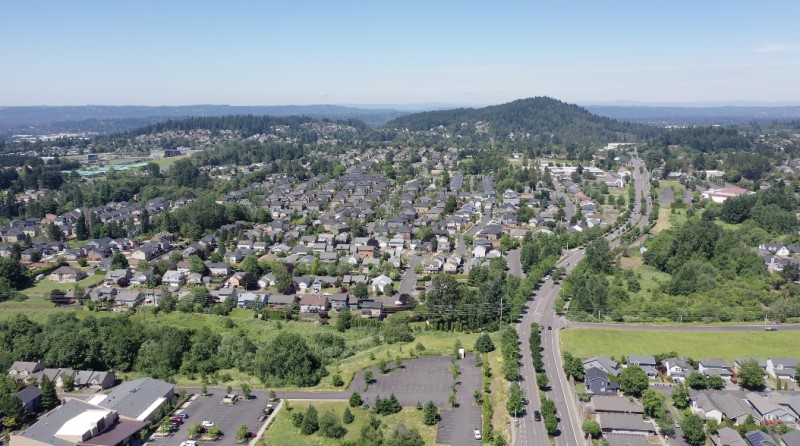 According to Zillow, the estimated cost per sq ft in Happy Valley is $207, whereas Portland is $231 per sq ft. This means that you're likely to get a newer home, and a much larger home than you would for the same amount in Portland.
You can also get an incredible home in Oregon City for a fraction of the price of Portland. The median home value in Oregon City is much lower at $423,600. Oregon City is definitely one to watch for investors, too. Zillow predicts that Oregon City house prices will rise by 3.2% each year for the next few years.
Happy Valley Park has baseball/softball areas, basketball courts, soccer pitches, an off-leash dog area, walking trail, picnic areas, play areas, and a splash pad. Oregon City has just as many great things to do for families. The crime rates in Happy Valley and Oregon City are quite a bit lower than some of their surrounding areas, making them both great places to raise a family.
3. Beaverton and Aloha
Beaverton and Aloha are suburbs of Portland, Oregon, and part of Washington County.
Aloha is just a little further out from downtown Portland than Beaverton, but they're right next door to one another. As with Beaverton, Aloha has a suburban feel and is one of the safest places to raise a family. With a little more available space than you'll find across the river (in SE or NE Portland), you'll have access to tons of huge parks and other fun outdoor recreational activities in the Beaverton/Aloha area.
The public schools in Aloha are above average at an overall rating of B+. With a super robust school district, Beaverton public schools have a slightly higher overall score than Aloha at an 'A' rating.
The Beaverton/Aloha area is right in the heart of Portland's Silicon Forest, making it a great place for people in the tech industry who are thinking about moving to Portland. Your average home price in Beaverton is $428,400, whereas Aloha, being a touch further out, has an average home value of $364,400.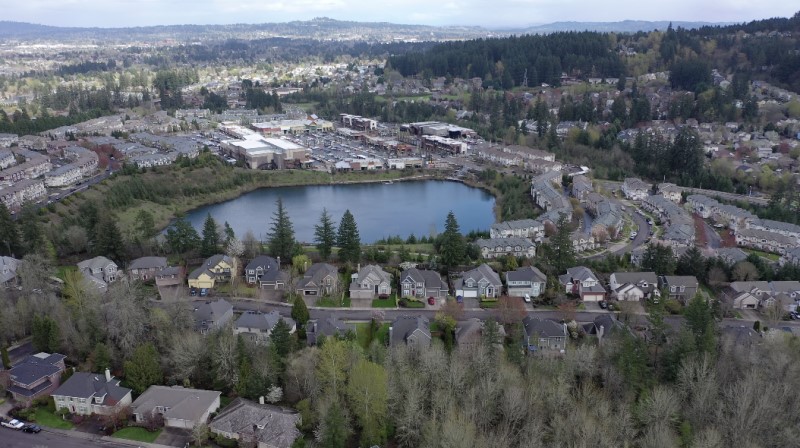 4. Foster-Powell
Foster-Powell is an upcoming spot in SE Portland, just 19 minutes outside of downtown. It has become incredibly popular over the last few years, with many desirable attributes such as a Walk Score of 85, Bike Score of 99, and even the transit is higher than many areas at a score of 47.
The median home price in the Foster-Powell (a.k.a. FoPo) area is a very reasonable $370,000. Not only that, but the homes are almost all turn-of-the-century. It's the most affordable of the inner districts and still has all of the quintessential OG characteristics that made Portland famous.
If you're looking for Portland charm with a lower price tag, Foster-Powell is absolutely popping-off right now. You're close to some great food truck pods like FoPo Food Carts, Portland Mercado, Carts on Foster, and the mother-of-all Portland food pods, Cartlandia.
If you ever get cold in the winter months, you'll also be close to a ton of comfy bars and some incredible Phở options. With a variety of food, entertainment, and nightlife, located just outside of the city, FoPo is where it's at.
5. Northwest Portland
There are three areas in Northwest Portland that are killing it in the real estate department right now. Skirting the edges of both downtown Portland and one of the largest urban forests in the U.S., Cedar Mill, Bethany, and Forest Park are great areas that each offers a similar lifestyle to the next.
They connect to the tech corridor leading to 'Silicon Forest' (Portland's version of Silicon Valley), where you'll find Nike, AirBnb, Tektronix, IBM, Apple, Amazon Web Services, SalesForce, Nvidia, and many more.
These areas of Northwest Portland lots of entertainment because they're incredibly close to downtown, and they all have access to the 5,100 acres of gorgeous trails in Forest Park.
According to niche.com, schools in this part of Northwest Portland have an overall A+ rating. Niche.com also ranks Bethany as #1 best suburb to live in Oregon; Cedar Mill is #2, and Forest Park ranks at #5.
The current median list price for homes in these areas are:
$563,700 in Bethany,

$613,800 in Cedar Mill, and

$546,900 in Forest Park.
Each of the areas has been growing rapidly and is predicted to continue growing at a rate of 1.2% to 1.7% over the coming year.
Thinking about moving to Portland, OR? We can help.
As licensed real estate agents in Portland, Oregon, we specialize in helping people who are looking to move here. Our combined experience and vast number of connections in the Portland real estate market are hard to beat.
If you're thinking about moving to Portland, Oregon, we can help you find your perfect home in the right neighborhood for you. If you have questions about moving to Portland, feel free to call, text, or email Jackson Wilkey or Jesse Dau.
Need help moving to Portland?
If you're thinking about moving to Portland, OR, we can help you find your perfect home in the right neighborhood for you. If you have questions about moving to Portland, feel free to call, text, or email Jackson Wilkey or Jesse Dau.
P.S. Join your local peers!
Join our active Facebook group to get to know the city & the real estate market better
Or message us to day with your questions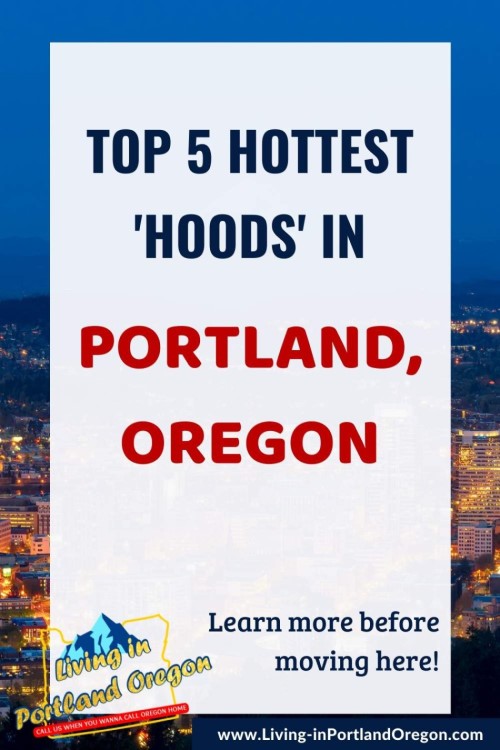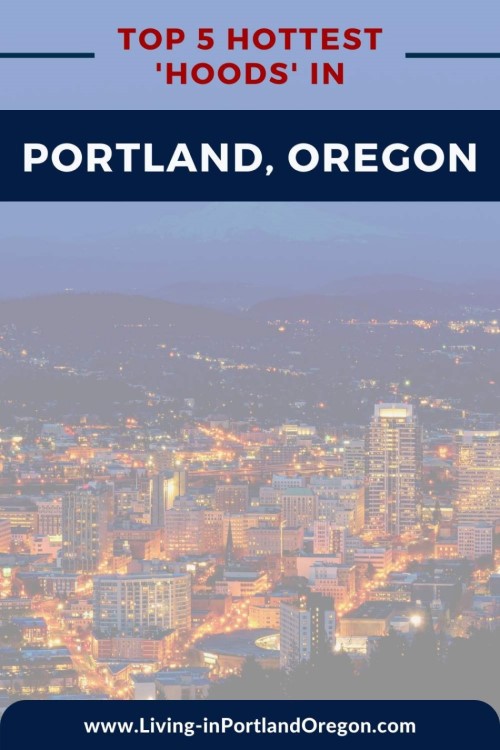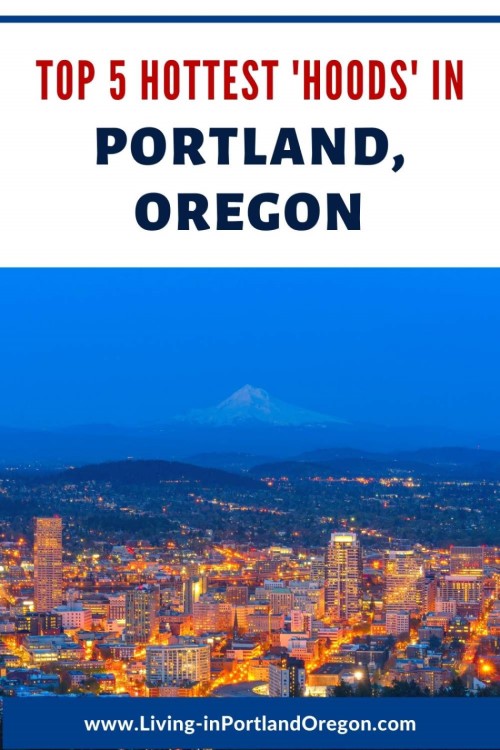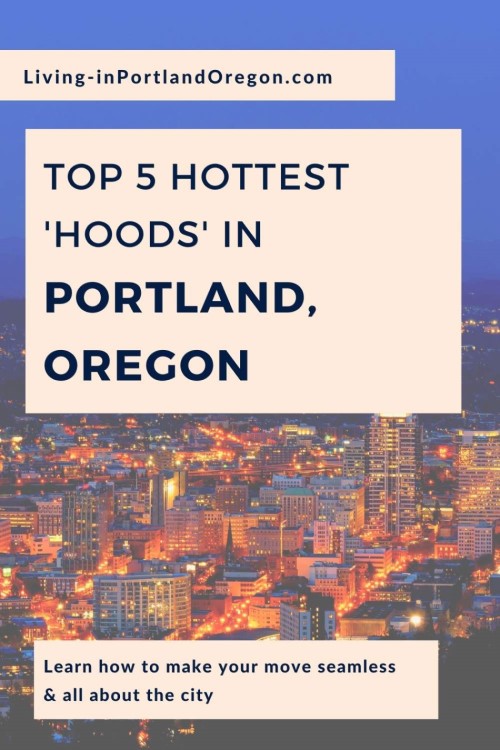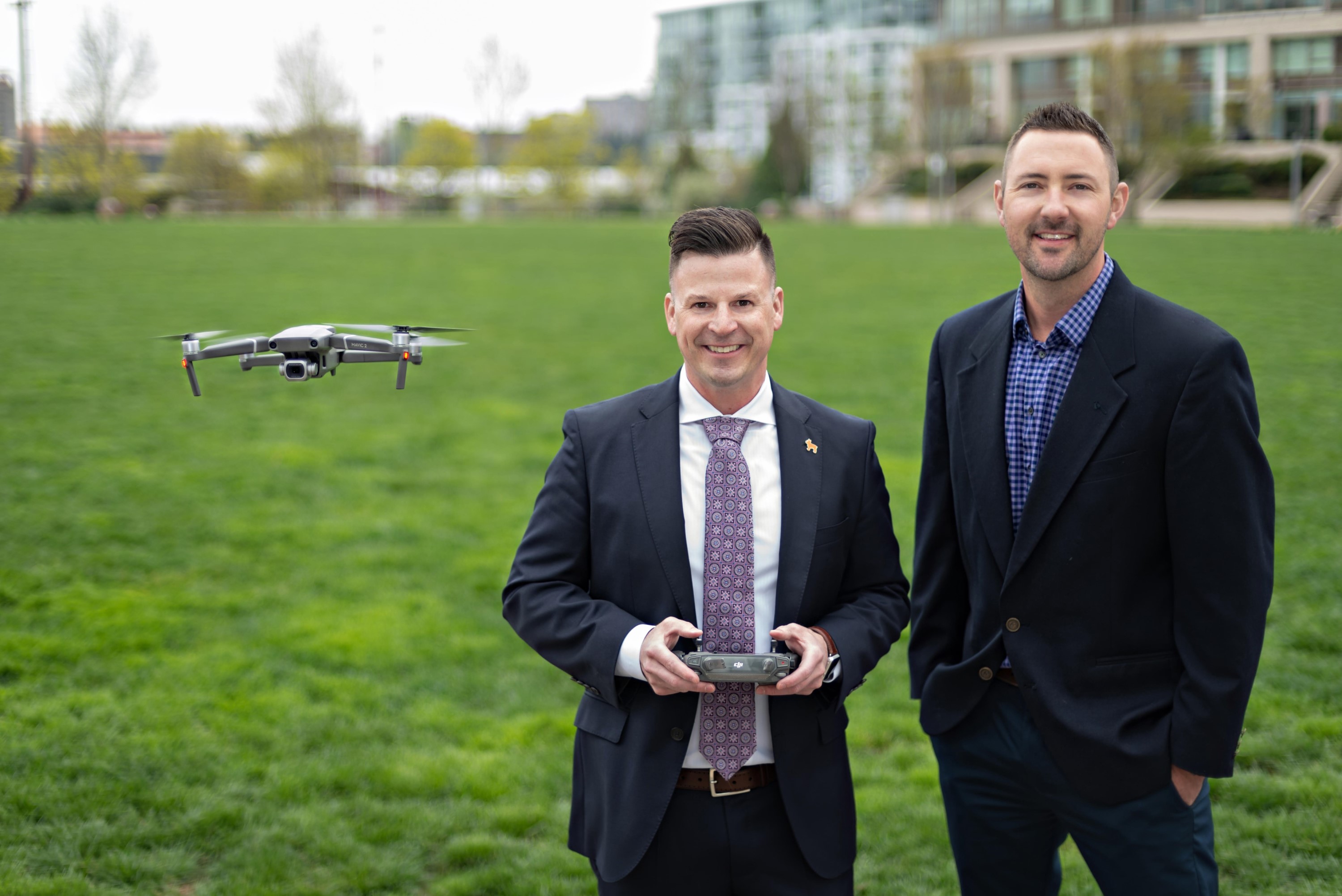 About Real Agent Now Group
Jesse & Jackson are high-touch broker's known for their extensive market knowledge and unmatched devotion to clients. Their success is based almost exclusively on positive referrals. They earn the respect of their clients by working tirelessly on their behalf and by always offering them candid advice. Get to know them better by checking out their Portland and real estate
YOUTUBE CHANNEL
.