Northeast Portland
Portland, Oregon Region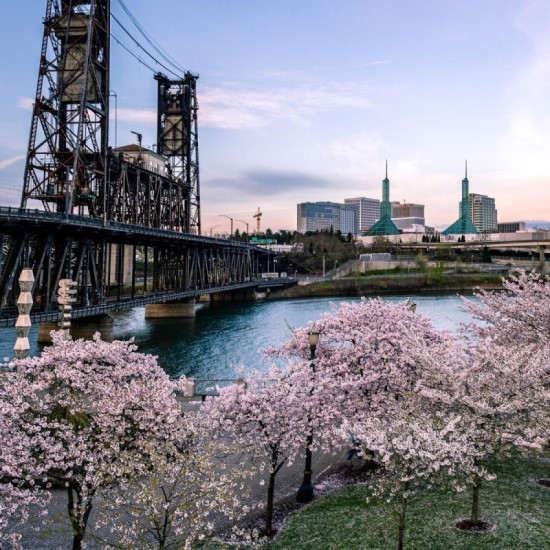 If you're thinking about moving to Portland, the Northeast region has a really fun mix of all things PDX. It's a diverse area with lots of culture, activities, and a great standard of living.
One of the most interesting things about Northeast Portland is that it has a lot more on offer than at first meets the eye. Tucked away behind seemingly normal buildings, you'll find tons of eclectic shops, bars, and restaurants to explore. Portland's such a foodie town that you can't help but feel a little bit cool when you find a new "secret" spot to eat–and Northeast Portland has a lot of them to find.
Some great secret eateries are:
C'Est Si Bon!, Angel Food and Fun Mexican Restaurant, Mae, OX, Grain & Gristle, Voodoo Too, and Salty's on the Columbia.
If you'd prefer to cook, Northeast also has an assortment of some of Portland's finest Farmers markets (like King Farmers Market, Hollywood Farmers Market, and Lloyd Farmers Market).
Northeast is also home to the Rose Garden basketball arena, Lloyd Center Mall, the Oregon Convention Center, and the Alberta Arts District. You'll find a diverse selection of parks, such as Kʰunamokwst Park, in Northeast Portland. Recently built in the Cully area of Northeast Portland, Kʰunamokwst Park was named by the Native American Community Advisory Council. The word "Khunamokwst" means "together" in Chinook.
Another fun one is Alberta Park. Densely packed with old-growth trees, Alberta Park offers filtered light with a stunning green backdrop that together create a perfect setting for a whole host of activities and gatherings.
Another Northeast Portland locale that'll get you closer to nature in mere minutes is Luuwit View Park. Nestled into the Argay neighborhood, Luuwit View Park offers accessible picnic areas, accessible play areas, and accessible restrooms. Designed by Skylab Architecture and 2inkstudio landscape architects, the park has an amphitheater, basketball court, dog off-leash area, rock climbing wall, skatepark, soccer field, and a splash pad; all encircled by stunning views of the city and beyond.
Looking to buy a home in Portland, Oregon?
Neighborhoods in Northeast Portland
Laurelhurst, Sunderland, Summer, Cully, Hollywood, Roseway, Humboldt, Concordia, King, Sabin, Eliot, Grant Park, Sullivan's Gulch, Beaumont-Wilshire, Rose City Park, Madison South, Woodlawn, Boise, Vernon, Alameda, Irvington, and Lloyd
Top Southeast Portland neighborhoods for overall livability
In NE Portland, you'll find tons of historic homes that have been beautifully updated on the outside and often completely modernized on the inside. In many pockets of the area, you'll find that no two houses are the same if even alike. Whether you're looking for a turn-of-the-century home, a semi-mansion, a quirky A-Frame, 1950s bungalow, or a modern newbuild, NE Portland really does have it all. Here are some of the neighborhoods in Northeast that we recommend checking out if you're looking to buy a home in Portland:
Alberta Arts District
Right at the top of our list is the Alberta Arts District. It's a super unique section of Portland with a wide range of shops, local art, restaurants, bars, food cart pods, and around 20 blocks of artsy Portlandness. If you're visiting Portland in the summertime, Last Thursday is a must-attend Portland event. They shutdown 13 blocks of the Alberta Arts District to display and sell local art, wood crafts, and lots of other awesome things.
Laurelhurst
One of the most historic neighborhoods in Northeast Portland, Laurelhurst, has tons of well-established charm. It's walkable and has some gorgeous turn-of-the-century homes, mature landscaping, and old-growth trees. Sprawling Laurelhurst Park has plenty of photos ops, with tall trees and a grand pond. It's an excellent park for a leisurely stroll, dog walk, or picnic.
Irvington
Irvington has lots of great parks, wide streets, old-growth trees, green lawns, and large, unique homes. If you're looking for the American dream, Irvington might just be it. The large historic homes in this area tend to be elegantly restored on the outside and super modern on the inside.
The neighborhood is near to shopping, great schools, the Max, Interstate 5, and Interstate 84. The huge turn-of-the-century homes here run from the upper $500's into the millions.
Alameda
Alameda is right next door to Irvington and very similar to Irvington, yet a little more affordable. Alameda also offers lots of bars, restaurants, coffee shops, and parks.
Listed in the top ten Portland neighborhoods to raise a family, Alameda has clean streets and is in catchment for some very highly-rated schools. While most schools are located in neighboring areas, Alameda is home to one very unique educational facility. Standing strong at almost 100-years old, Alameda Elementary is one of the top schools in all of Portland.
Beaumont-Wilshire
Beaumont means "top of the mountain." Beaumont and Wilshire used to be separate neighborhoods but have been combined. You'll find architecture all the way from the early 1900s to today with awesome A-frames, cottages, bungalows, and Tudor homes (which have the classic visible beams on the exterior).
Beaumont-Wilshire is a highly-desirable neighborhood with great schools. Homes here range from the upper $300s-$400s all the way up to the million-dollar range. The area is clean and peaceful.
Hollywood
Just outside of downtown Portland, Hollywood is one of the most central locations in all of Portland. It's very conveniently located at just 5-10 minutes from downtown, close to the airport, and by the main freeways that will take you out to other parts of Portland and its suburbs. Hollywood is a vibrant area with many different styles of home, tons to do, and lots to eat.
Grant Park
One of the great things about Grant Park, same as the Beaumont-Wilshire area, is that it's part of the Ulysses Grant High School district. Ulysses Grant High School is one of the best high schools in Northeast Portland, and it's gone through a full remodel so it is brand new for the class of 2020.
Grant Park has charming homes, wider streets, ancient trees, and stunning landscaping. The homes surrounding the lake at Grant Park are very desirable. Always on the up and up, Grant Park is a great place to invest. The area doesn't have all the bars and shops that you'll find in other districts, but it's quiet and serene.
For now, Portland City is offering fee waivers on building ADUs that are to be used as long term rentals. The City's stipulation is that any new ADU that takes advantage of the fee waivers cannot be used as an Airbnb or short term rental for 10 years after it has been registered.
Sabin
The Sabin neighborhood is a true hidden gem. It's tighter packed than some of the areas that surround it, but still has all the charm of NE Portland. The houses are smaller than the huge homes in Irvington, but they're also much more affordable. Along with the beautiful older styles, Sabin also has a number of brand new modern homes.
Sabin is an area where we're seeing lots of Accessory Dwelling Units (ADUS) go up. People are building them behind their houses and using them as rentals for secondary income. Some are long term rentals, and others are Airbnb.
For now, Portland City is offering fee waivers on building ADUs that are to be used as long term rentals. The City's stipulation is that any new ADU that takes advantage of the fee waivers cannot be used as an Airbnb or short term rental for 10 years after it has been registered.
Learn more about moving & living in Northeast Portland, Oregon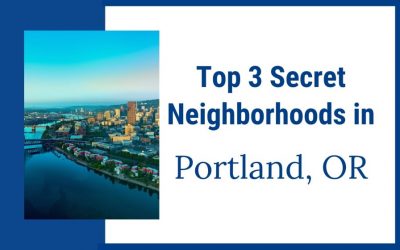 These three secret neighborhoods of Portland Oregon are still considered to be 'secret' or 'undiscovered' by many looking to move to the area
read more
Moving to Portland? We're here to help.
We're licensed in both Oregon and Washington and can leverage our robust expertise, knowledge, and experience of the local market to help you find your dream home.
We have homes available in every style and for every budget. Whatever your ideal home is, we'd be more than happy to help you settle into one of America's fastest-growing cities.
Contact Jesse Dau or Jackson Wilkey today to see available homes in the Portland metro.
Are you planning to buy or sell a home in Portland?